Have u seen the largest Flower in the planet.if not u can here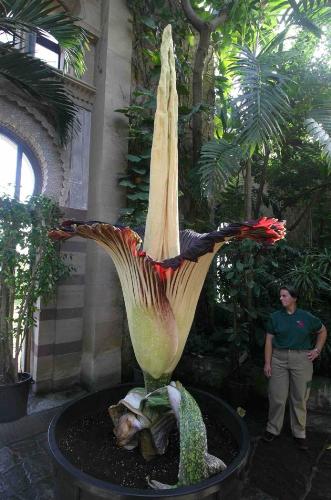 India
October 30, 2009 11:43pm CST
Phenominal!!!!!!!!!!! Amazing!!!!!!!!!!!!!Shouldn't this qualify as the "8th Wonder of the World"?The largest flower in the world was born in Rio Blanco,Veracruz,Mexico.Two metres high and weighing 75 kgs,it has the peculiarity of only blooming only during three days every 40 days. What would u do with it if it were in ur farm. I would love to raise a garden to grow these flowers nd would give away to as many as possible coz who wouldnt love to have "The Largest Flower in the Planet".
1 response

• Boston, Massachusetts
1 Nov 09
I haven't seen one but i learned about this when my son had this topic in their science subject. We did a research about the largest flower and found this out. It's really huge and "scary". I love flowers too and when i grow old that's one of the plants that i'm going to raise in my garden--roses, sunflowers, daises, orchids and other flowering plants that's easy to plant and grow.

• India
1 Nov 09
yeah its really huge nd i dont think it is scary francisco,its really so sweet to watch nd morever it has a peculiarity of blooming only 3 days for every 40 years.looks like u r really interested in raising a garden.it would really pleasant if we can raise by the sea with the cool breeze passing by.tats where i would love to spend with my girl friend.thank for responding.cheers.

• Boston, Massachusetts
2 Nov 09
you are simply romantic-- a gardenof flower near a beach? that will be amazing! a good sight for a very romantic pair like you and your girlfriend. make it possible friend. you can do it. Ok i will try to appreciate that huge flower than being scared about its size LOL.