Repented Bush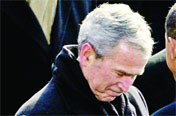 India
November 1, 2009 2:48am CST
Former US President George W Bush expressed his repentance for Iraq War. Mr. Bush said that "I had a wish to disarm Saddam in peaceful way. But I am sorry I had to enforce military power. Though I had no alternative." Mr.Bush was speaking at a meeting in New Delhi on 31st October titled 'Leadership Summit'. Bush said he is repented for that. It may me mentioned here that after six years of aggression on Iraq more than 10 million Iraqi and 4 thousand 673 soldiers of joint force have been killed. Among the soldiers killed 4 thousand 356 are American. Apart from this millions of children became orphan and thousands of women became widow.Has Bush any logical answer for this massacre?
2 responses

•
1 Nov 09
he still apparently thinks it was necessary. odd that after saddam went it still went on isn't it? should never have been started in the first place - the world is full of dictators as bad as that one was that have not been touched, and anyway i am quite sure that assassination would have been possible if disposing of saddam was the real reason for it.

• United States
2 Nov 09
Saddam actually left him no choice. He screwed with us for ten years and left us thinking that he still had WMDs. And regardless of what our Congress says now they also voted to use force against Iraq. George Bush didn't do it all by himself. One thing I do fault him with is that he listened to and kept Secretary of Defense, Rumsfeld, in his position for too long.