Soap

United States
November 1, 2009 9:57pm CST
This is probably a weird discussion, but what type of soap do you prefer? Liquid or bar soap, and what scent do you prefer? I like both types of soap but prefer a "gentle" smell. What is your opinion and what is your favorite?
6 responses

• Australia
2 Nov 09
Bar soap is banned in my showers but is allowed in the basins. I have shower gel in both showers simply because I found it so difficult to remove the soap scum from the glass and tiles. No more soap scum! I like the smell of lavender. There is lavender shower gel in both showers because lavender is suitable for everyone. I also have an unscented Dove moisturising shower gel for anyone who doesn't like lavender. I also have liquid hand soap at the basins and in the kitchen, but there is also bar soap at the basins.

• United States
2 Nov 09
Do you choose to ban te bar soap, or did some else make that desision?

• Australia
2 Nov 09
I banned it when I discovered that shower gel does NOT create soap scum. Now, cleaning the shower is easy.

• United States
3 Nov 09
That is brilliant! It is amazing how annoying soap scum can be. Although, scrubbing bubbles makes this spray stuff called shower shineand all you have to do is spray it in order to clean the shower. It works very well.



• United States
3 Nov 09
I miswrote as well, but don't worry about the miscommunication. No biggie!

• Philippines
2 Nov 09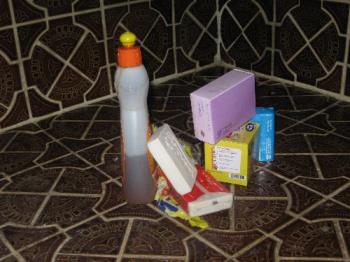 I don't have much preference for the type of soap. Whatever is available for bathing, we use it. This is especially so when relatives from abroad coming back to our country bring us gift items in kind such as soap, lotion, perfume, etc. They either bring bar or liquid soap and we use them. Generally, we use bar soaps for bathing. For washing clothes, we use soaps in powder, bar and liquid form.


• United States
3 Nov 09
I tend to use the bar soap to bathe with and liquid to wash my hands with. But I am with you I will use either.

• Bucharest, Romania
2 Nov 09
Soap

.. bar or liquid


never hear of .. as from above answers I think is something for washing .. HECK ! NO ! Washing is very dangerous for health if performed to often and not under strict control. Because once you wash, you remove the dirt layer which is protecting you from cold .. once removed, you attract new germs and viruses which everybody knows they like clean surfaces to reproduce themself .. I for sure I don't want couples of viruses making love on my skin .. bleah ! (ps- mwooahahahahahahahahaha)

• United States
3 Nov 09
That is an interesting point of view, thank you for sharing.

• United States
2 Nov 09
i really like liquid soap for showering and the foaming tipe soap for handwashing. as far as scent i tend to change soap every time i buy it because i like variety but my favorite smells are orange blossom or coconutty type smells.

• United States
2 Nov 09
I like the foam type soap too. I haven't had orange blossom soap but sounds like it smells good. Love the smell of coconut!

• United States
2 Nov 09
Evening amy, I have always used hand soap up until about 3 months ago. I suffer from psoriasis and I read an article that said to try liquid hand soap on your skin because it would soften down the dryness, I have been using liquid soap every since and it really does appear to be helping. I don't really prefer any certain smell although I have mostly bought vanilla sugar scent and have become pretty fond of that scent, i guess of long as it isn't too strong it will do fine.

• United States
2 Nov 09
I am glad the liquid soap seems to be working for you. For hand soap the Vanilla sugar is great I'm sure. I usually get melon scented for hand soap. I don't know if I would want to wash my entire body in Vanilla Sugar. I think it might be a little strong. I could be wrong though.