!!!!!!!!!!!!!!!!!!!!!!!!!Former Marijuana Smuggler Here !!!!!!!!!!!!!!!!!!!!!!!!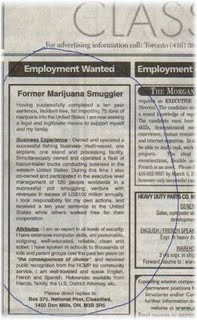 India
November 4, 2009 12:28am CST
have you seen the best resume ever tat too of an smuggler.if not you can see in the below picture. If at all you had any export and import company would you give a job to a former marijuana smuggler.LOL.this former smuggler has placed an advertisement in a classified column and was explaining about the experience he had in handling the export and imports and how efficient he is coz he has smuggled for so many years. Would you give him a job if you had an export and import company.would you consider him or not.and what questions you will ask him in the interview?
1 response