Will you marry your girlfriend/boyfriend?

India
November 6, 2009 12:20am CST
Hi mylotters how many of you will ignore the horoscope matching with your respective partners and even if horoscope says this marriage is not going to work will you still marry them
8 responses

• Malaysia
6 Nov 09
This does not exactly pertains to your question - but I have a major crush on somebody whose horoscope matches & compliments mine very well, and vice-versa. It's a long story, but we're not together, and probably never will be. So I don't believe in horoscopes =P

• India
8 Nov 09
sorry friend but its true that many of us make girl friend but we are not intersted for the marriage with her

• Australia
7 Nov 09
it doesn't matter if you love some one what your horoscope says. take for example friends i know one a taurus and the other is gemini. bad match, by horoscope's but they've been together for over 19yrs, and are very happy together. they're the type of couple you would look up to on a sucessful marriage. better off to check out the numerology to it all, cause it can be the exact opposite of what the horoscope will say.

• China
6 Nov 09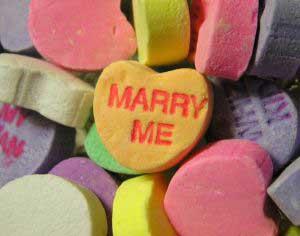 Yeah, it is my first dream that I can marry my girlfriend someday. I want my first girlfriend to be my wife in the end, even if I have to spend much time waiting for her. However, it seems that it is next to impossible for I don't see this in our society right now. According to some polls, most people tend to leave away from their girlfriend/boyfriend at last. You see, I have kept a good relationship with my girlfriend for more than 5 years. It is obvious that I really love her and want to marry her. Just let the time to prove the true love.

• Philippines
6 Nov 09
i love my boyfriend now, he is my first boyfriend ever.. and i want him to be my husband in the future, but of course by the grace of GOD.. i don't care with those horoscopes out there, the most important thing to me is him as my boyfriend and my future husband..




• Philippines
6 Nov 09
i am married to my wife for seven years already. we didnt even check if our horoscope was a perfect match or not. i guess it will turn out the way we wanted our relationships to be if we both work hard for it. it does not matter what the stars says about it. i am a guy who does not read my horoscope so i dont really mind. my wife does not pay much attention to it as well.

• India
6 Nov 09
I dont care about any horoscope...if horoscope says tht if i marry my gf then i will die...still i will marry wth her only....:-)

• Malaysia
6 Nov 09
Forgot to add this but yeah, if I'm in the scenario you describe I'd marry nevertheless