What children can do......Oh My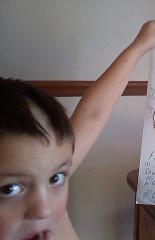 United States
November 6, 2009 9:07am CST
Ok, on fridays I usually let him stay at his grandma's, his father stays there and there is no school the next day so I let him go there. I am finding places and prices for our christmas pictures this year, finding him a cute outfit, trying to find something that I can fit in and won't look like a hippo ok.....I go over there Saturday to give him clothes to change into and HE CUT HIS HAIR!!! My son got ahold of their hair clippers and put a strip right down the middle front....oh no!!!! Yea, I wanted to give him a "trim" but he went and did it again, this isn't his first time. There was no way to fix it so we had to shave it, during the winter, having to shave his head....arrgghh I did yell at everyone there asking why they couldn't "hide" them and put them where he could not get to.. Needless to say, we are waiting a month for our pictures. What children can do... :))
9 responses

• United States
6 Nov 09
Oh my gosh!!! That is soo funny!! Only because my daughter did the same thing last year, well not exactly the same. She decided to give herself bangs one morning while getting ready for school, because I don't think she will look good with them so I keep telling her no. I was at work and my boyfriend was taking her to school, and of course he didn't notice anything!! She is 8 and apparently thinks she can make her own decisions....well she cut them too short...and they kept getting shorter and shorter until they were cut all the way up to her head!!! I went to pick her up from school and was standing with her talking to her teacher and I looked down and was like, what did you do to your hair??? I was so mad!!! And now like 6 months later they are slowly growing out!!!

• United States
14 Nov 09
That is too funny, but I am sure at the moment it wasn't. Isn't it amazing what men cannot "see" or "hear"???? I remember seeing many children when they are younger with crooked bangs, back hair or like mothers or people trying to "fix" a mess hair. It is amazing how many children really do this and if it a stage or just a natural instinct of some sort. If took a before and after picture you could put in her "embarassing" album to show future boyfriends. :)

• Trinidad And Tobago
6 Nov 09
This is part of life ,,ENJOY

• United States
6 Nov 09
oh I know, i do enjoy him but then there are times i just have to count :)

• Malaysia
7 Nov 09
Ahhhh, It is so funny. Children of today are mischievous. During my time we were good children. Moreover, were obedient. We never did the unthinkable.

• United States
14 Nov 09
I am sure if we ask our parents they could tell us some stories :)) Though, I think I was good also, plus I was an only child so didn't have anyone to aggravate. :( until now, my real brother I found he is a year younger than me, not around but my half brother and I are 18 years apart and i try to mess with him now. :)) can be fun unless he turns the tables on me....boo.

• Malaysia
19 Nov 09
Children are children. Boys are usually naughty. They tend to among themselves. But when I was young I was a good well-behaved boy. I don't joined gangs and was not involved in gang fights.

• Garden Grove, California
14 Nov 09
oh my G. hi charblaize You just made me laugh and reminded me of my son and my little girl, he was four and had got hold of my sewing scissors,she was three.I heard him giggle, then it 'was quiet. she called ,no no wobbie don't do that. I ran in just in time, as he had got the scissors caught in her long hair. He had already cut off all the fringe off a new towel I had got from my mom for my birthday. I had asked him why he cut off the fringes, and in all seriousness, he had replied,mommy your towel was unraveling.now where ever did he get that word, I wondered? anyway he had not cut but just a tiny patch so I was able to comb her long hair over that spot.My son Robbie was always taking something apart and putting it back together.so it was no surprise when he grew up that he became a computer programmer. He can repair computers he can pretty much do anything on a computer or with one. On a sad note we lost our little girl when she was eight with an unknown aneurysm.

• United States
14 Nov 09
It is amazing what things can pick up and hear as they grow. My son loves to find scissors and cut things, he has even taking apart his bike and then gets mad when he can't ride it or we can't get it back together. I keep telling him he needs to work for NASCAR when he grows up and support mommy :)) That is neat that your son put those talents to use all those years. I am sorry for your little girl. I could imagine what I would do if I lost my child. My blessings are with you, for I am sure memories still hurt today.

• United States
7 Nov 09
Oh my gosh, that is so funny (though it may not have been at the time!). Reminds me of when my sister and I were kids. I pretended I was a hair dresser . . . and pretended like I cut her hair. Well, she was much younger than I and she thought I really did cut her hair. So in anger, she got a pair of scissors and cut my long hair on one side - at ear level. Argh! Luckily my dad was handy with his hair cutting shears and he fixed it by giving me a short "due". Well, best of luck next month when it's picture time!


• United States
14 Nov 09
oh my, its amazing how vindictive one can get at such an early age. Its amazing what kind of stories we can tell when we are older. haha. I was an only child, so i would always cut the hair off my barbie dolls..oopps and then they would look so terrible I would get rid of them or throw them away. Hope your sister isn't still that vindictive...:) His hair isn't growing back that much yet, but I hope get alittle fuzziness to it

• Hong Kong
7 Nov 09
Kids do the darnest things. I'm just glad he didn't hurt himself. Well, on the brighter side, he didnt cut anyone's hair...because when I was a little girl (aged 3), my brother took the clippers and cut MY hair. Imagine being a girl and being 3 years old and having a bowl cut. I looked like I came out of a refugee boot camp or something.

• United States
7 Nov 09
i am surprised he didn't think of that or i am sure he would have, he is that type of boy. I feel for you...

• United States
6 Nov 09
I've been very lucky that neither of my children have ever given themselves a haircut. But, I know at least with my son it is still going to happen eventually. He just turned three a couple of weeks ago, so it is still inevitable. We do tend to keep his head shaved down though because he has such thick hair and when it isn't kept really short, it is literally all over the place. I may have went ahead and had the pictures done if for no other reason than the fact that they would be a good memory in the future.

• United States
14 Nov 09
Oh, yes children can do the strangest things and amazing how and when they find the time to do it. If they are quiet, they must be up to something!! Yea, I could have gotten our pictures done with the shaved part in it..hahaha or atleast got one done with it. My son usually has his head shaved during the summer, so we get plenty of pictures with it shaved, all his sports and things, i would just like a few with hair :)) He also has like 3/4 co-licks on his head so I know when it is time for a trim, they stick out everywhere and he will always look like bedhead. :))

• United States
6 Nov 09
You know kids are pretty smart and he probably would have would the clippers if he really wanted too. I just had to laugh because it reminded me of when my older daughter cut the younger daughters hair too. The older one was about 51/5 and the younger one between 3 and 4. The older one took the shears and cut the younger one's hair down to about 1/4 to 1/2 inch on one side of her head. Just one side mind you. She was a site for a long time. She was quit often mistaken for a boy. She did this not once but twice. When raising kids you have to keep a sense of humor and laugh.

• United States
6 Nov 09
His uncle put it up behind the TV.....now what child would not find it there!!! My son likes to find things everywhere and anywhere, yes the least they could have done was take the battery out of it...mmm.. I think I more hurt than angry, wanted to get our pictures done, then upset at his grandma and uncles for not putting them up when this isn't the first time he done it also. Yes, start laughing and enjoying. :))

• United States
6 Nov 09
OH, thank you so much for the laugh!! I remember when my boys did that! They are less than a year apart, "Irish Twins", and when they were in 6 and 7 they picked up their school scissors when I was in the garden and cut each others' hair. I couldn't be angry because I had said just that morning to their dad that they needed haircuts and he said we didn't have the money, it would have to wait. My boys were trying to save us money, the sweet babies!

They looked AWFUL!!

They thought so, too. I borrowed my neighbor's hair buzzers that she used for her dog in the summer and they looked fine after that--in fact, they liked it so much that they insisted on buzz cuts for years. We bought a set of buzzers and saved LOTS of money on haircuts!


• United States
6 Nov 09
I think that is what he was trying to do hahaha, save money and shave it instead of the trim :)) what they seem to do themselves haha I don't mind the bus but in the summer, but guess he will be getting them year round now.....hahaha