They are putting a fence around the geese pond!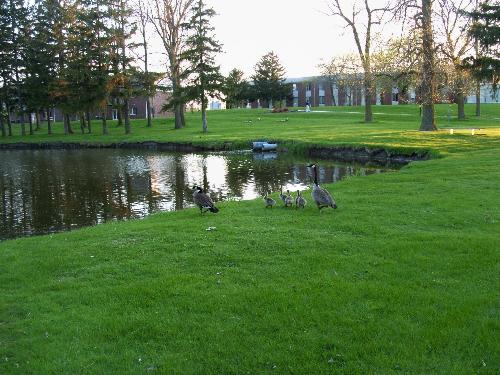 United States
November 10, 2009 10:33pm CST
I work at a college and near the college campus entrance we have a small pond. Every year the Candian Geese come to lay their eggs and raise their young. In late fall the geese migrate. Now the college put a wire fence around the geese pond so next year the geese won't come to nest and raise their young! I think that is stupid and I don't think the geese are a problem! The college I guess does and that is why the fence went up! I hate when people play with nature!
3 responses


• United States
13 Nov 09
It is being done so the geese can't lay their eggs! What I don't understand is why? The geese don't bother anyone! I'm going to look into this!

•
11 Nov 09
I think that is very sad as these geese probably come to the same pond every year and will have to find a new place to nest.I think if there are no good reasons for them putting the fence up perhaps a few people should get a petition and get people to sign it to have the fence removed.

• United States
13 Nov 09
I toldly agree! I should get a petition started to get that fence taken down! It isn't fair for the geese who come back year after year to to find another place to lay their eggs and raise their babies thanks to humans not thinking about them but for only themselves!

• United States
11 Nov 09
Wow,,I find this to be cruel and terrible. Geese are a beautiful bird and as you said, what harm or problem could they possibly make? I would think the college would look forward to this amazing migration and celebrate it, not chase it away. Natures beauty is one of the few great and amazing things we have left if mankind would just leave it alone. This is true is so many species of Gods creatures. I think the alumni of that school should start a petition to take the fence away. Maybe the geese will be able to get in anyway..I hope so..What is wrong with people? Bird haters...BOO HISS

• United States
12 Nov 09
I don't know what is wrong with the college! Those geese do no harm! Alot of things they do around here is really stupid or senselee just like the fence! It iis cruel and should be stopped! Thanks for your response!