Ice cream cone cookies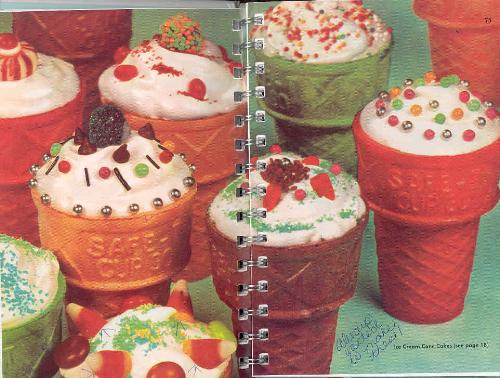 United States
November 12, 2009 7:46pm CST
I have made them before, and they look like the image here. But I have seen them elsewhere and they have this huge "swirl" of icing on top making it look like swirl of ice cream on the cone. However.. the only way I can see to do this is to use icing....with a large circular tip and just swirl about 1/2 cup of icing to make the ice cream on top. I am not going to give a kid 1/2 cup of sugar/icing to sit and eat!!! So does anyone have any thoughts as to how I can make them look more like and "ice cream cone" than just these flat top ones in this image.. Any suggestions?
4 responses

• Hong Kong
13 Nov 09
I haven't tried making this before. I normally bake oatmeal cookies and other types of cookies and brownies. Haven't tried this before but I think I'm interested now that you brought it up. Might be nice for the holidays. Thanks for sharing.

• United States
13 Nov 09
It is what I am planning to do for T-day. I have 3 little ones that will love it! I am going to let them decorate their own ice cream cones!!!

• United States
13 Nov 09
Those in the picture look yummy. I have never made these. How far from the top do they come down? I don't think you would have to make it go way up like the ice cream...they look fine made the way they are in that picture. How do you do these? Do you just put the cake in them and bake them or what?

• United States
13 Nov 09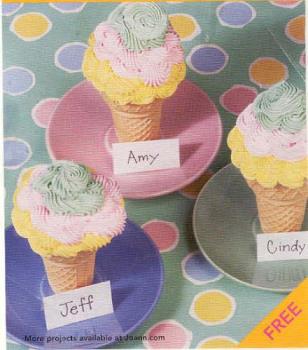 In my profile, check out my blog called Family Cooking Corner... there is a post about how to make them. You just fill ice cream cones about 2/3 full, put the cones in the cupcake pan (where you'd put the cupcakes) and bake. They raise up just about as much as you see in the picture. I scoop on a bit more than normal amount of icing to give them a little cap, but I see pics where the icing is just swirled on about 2-3 inches tall!!! Here;s another picture of more icing, but I have seen them swirled higher. They are fun to fun to bake and fun for the kids to decorate. My kids are grown, but these would be great for a birthday party... give each kid a baked cupcake cone and then lay out a couple cups of decoration things like sprinkles, gemmies, candys, etc and let each one ice and deocrate their own cone!

• Canada
13 Nov 09
No suggestions, as I have never heard of this kind of cookie before. They do sound like a really interesting idea, though.

• United States
13 Nov 09
Theya re really good - just use the cone instead of a muffin liner. The kids love them. I have done them before.. that picture is out of a betty crocker cookbook that I got when I was like 10 and have kept it ever since. I baked lots of things from that little girls and boys cookbook! And I got that same book for my GD and wrote in it my favorites, now she is writing in her favorites! But she loves to decorate the tops and that is all fine and well and I will make them for her, but would like to make them cooler! But still... just can't see 1/2 cup of icing to a kid!

• United States
13 Nov 09
You are right about the sugar. I cannot help with the shape but if you use oatmeal cookies the fiber in the oats helps trap some of the sugar and then it goes through the digestive system safely instead of raising blood sugar levels so high. But although I do try to avoid overdosing on sugar myself, I must myself dmit to having a weakness for frosting on those icecream cookies ;-)