Children's day

India
November 13, 2009 6:41am CST
Tomorrow, November 14th is celebrated as Children's Day in India. Here schools are declared holiday. Various competitions like oratorical, drawing, singing, etc., are held for students to participate and prizes are awarded for the best. I hope every country has children's day. Let me know more about when it is celebrated in your country and how you celebrate children's day.
3 responses

• India
19 Nov 09
hii anu, Children day is celebrated in India on 14th Nov every year in the loving memory of our First Prime Minister Jawahar Lal Nehru who used to love children a lot. When i was in school we never had holiday as such but we did have lots and lots of cultural programmes in the school like skits and drama and usual theme of them at that time was love of country or things like that. I hope it keeps continuing like this only and children are thought to love their country.

• United States
13 Nov 09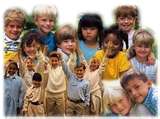 Happy Children's Day in India!It's nice to have this day for the kids and let them express their hidden talents and skills.I am sure this day you would discover some good kids on a certain special skills that has not been discovered by anybody or by their parents.This is a way to give them a chance to reach their dreams and be successful in the future.Cheers for the them!!!!!!

• India
13 Nov 09
Hi,anu,your discussion remind me the great leader who got vision at the time of we got independence..Jawaharlal Nehru..called as cha cha Nehru by children...i don't know whether it is an internationally children s day or it confined to India only.There are somany DAYS celebrating internationally,so it might be also there,but NOV 14th is the day for other countries also or not.Any how have a great time.