Do you like sleep?

Guangzhou, China
November 16, 2009 12:18am CST
Hi mylot. Do you like sleep ? I like sleep in a quiet place,where I acn enjoy my life to the fullest. But sometimes I hate to sleep,Because it just waste me a lot time to do other things.In the end ,I still want to have a sleep. do you have the feelings? Waht's your attitude to sleep? Can you share it with me Thank you for sharing Happy mylot.
4 responses

• Philippines
28 Dec 09
I love to sleep.I can sleep for 10 hours.when I am tired,I can sleep very easily.when I am not really sleep I have to listen to songs or watch a movie first before I can sleep.sleeping is one of my ways to relax.

• Philippines
16 Nov 09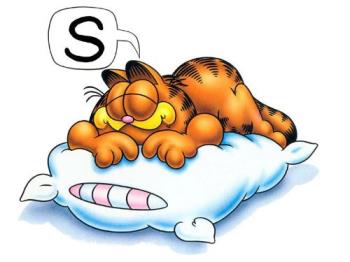 I really like to get enough sleep but I can get enough. I'm insomniac. I'm really finding alternatives for synthetic medicines like herbal medicines but it's not working. Sleep is very important for us to function well in our everyday lives. shadow41

• Guangzhou, China
16 Nov 09
Yeah. As sleep is so imporyant , we just get enough sleep that we need.Enjoy our sleep,mylot.

• China
16 Nov 09
hi,my friend,i like sleep so much,i have nothing to do for the time wanted to sleep,i'm agree with you,a waste of time to sleep,However,there are many advavtages to sleep,good for the skin,so i think would like sleep when you sleep,don't think of the other,haha,good luck

• Guangzhou, China
16 Nov 09
thank you mylot,I think I'm sleeping. Happy mylot.

• Italy
16 Nov 09
sure i love to sleep, i like to stay in my bed under my blanket, expecially in winter snowing days, when i can stay in a warm atmosphere. yesterday i slept for a lot of hours, i got up at 11 o'clock and i was a bit stunned. also now i'm so tired and i would like to sleep but i've a lot of things to do so i can't go to bed.

• Guangzhou, China
16 Nov 09
Yeah,I sometimes do have the same feeling with you. So just need we to get meor to sleep. That's what we want . Enjoy our sleep,mylot.