Im Back... I Hope!! ...Want to hear from my friends & hear all the News!!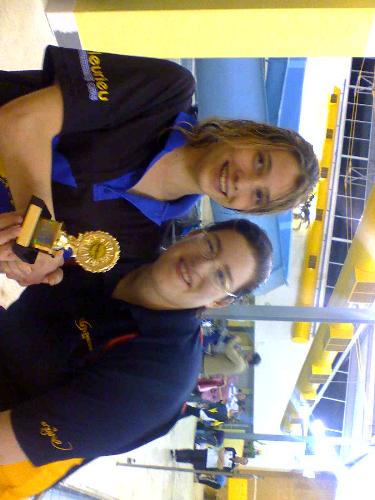 Australia
November 16, 2009 2:21am CST

I'm back. I am Jenny, from Adelaide, South Australia.I have been off My Lot for over one year. I had some wonderful friends here & I really missed them. If you remember, I got an online job that required all my time. With the market economy crashing, I have not had much work to do with the online business I was involved in, so here is my chance to get back on My Lot. I really hope my friends from My Lot are still there. There is so much news I have, & I want to catch up on all your news. I have been through my notifications, most of them, & turned the notifications on. I have 103 friends to approve & 181 messages to read. Can people tell me what the latest is on My Lot.. rules, protocol and how is the earning system going? I really hope my friends are still there.

I have attached a photo of my daughter receiving a swimming trophy.
5 responses

• United States
17 Nov 09
Hi Jenny, welcome back! Any new news that I've had I already posted about it in discussions that I started, so feel free to read up on them if you want.

Others have probably already got you up to date as to what's new on here. I just wanted to say hi and welcome an old friend back to mylot.

Happy mylotting!

• Australia
17 Nov 09
Great. Thanks for the response. Im not really up to date on whats going on here. I must that responses are very slow.

• United States
17 Nov 09
Have you seen any of the alerts after logging in? It might help tell you what's been going on. Guidelines might have been updated too since you've been here last so you might want to check those out, just in case. I don't really pay much attention to what's changed as I'm here all the time. So I haven't really noticed it. I just keep on mylotting away. LOL You might want to go through your friends list. See who's still on it and whatnot. Because some delete people off of their friends list if they have been inactive for too long. Could be one of the reasons why responses are slow to go. Also those on your friends list may not be active anymore. Good luck! And again welcome back!

• United States
17 Nov 09
sacmom That is what I did. It was just a short time ago that I deleted Jenny from my friends list because she had been inactive for so long. I was so happy when she responded to one of my discussions otherwise I would never have known she was back again.

• United States
17 Nov 09

This is such good news! You were one of my first friends 3 three ago when I first joined myLot. I kept checking to see see if you were still posting then after close to a year I finally accepted the idea you were gone for good. WELCOME BACK


• Australia
19 Nov 09
Yes, it's good fun being back & Im slowly hearing ftom some of my friends. But gee, its hard to know what dioscussions to use that get responses! They seem to vary a lot. And a lot opf my friends dont seem to start disccusions much now.

• United States
19 Nov 09
I stop caring a long time ago how many responses a discussion got. It is much more interesting to get a real dialogue going with a lot of interaction. Some times the best discussion only have 4 or 5 responses but they generate dozens of comments.

• Malaysia
16 Nov 09
Hello Jenny, it has been a long time since I last heard from you. It is good news that you decided to return as many of the veteran mylotters are no longer around and your coming back is indeed a big welcome as it will add more spices to mylot. It is expected with your long absence you will be having a busy time scrutinizing all your friends request and reading your messages. There is not much changes here except with the addition of tasks and quizzes.


• Australia
16 Nov 09
Thank you very much. It's going to take a long time for me to catch up on whats happening here.I will look up your posts tomorrow.

• Thiruvananthapuram, India
16 Nov 09
It is great to find you around here once again/It is people like you who make this site worth watching.Keep up the good spirit LOL/

• Australia
16 Nov 09

Thank you very much. I hope to have time t0 respond to lots of posts.

• United States
16 Nov 09
Wow. I saw your name and thought "Gee, haven't seen that username in awhile." Glad to see you are back. Seems like people are still earning okay. There are the MyLot tasks, but I think you can make more money quicker other places still.

• Australia
16 Nov 09


I remember your username well. It is great that you responded so quickly. I will look for some posts from you. Thanks very much.