Whale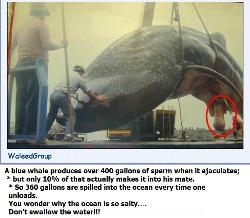 Australia
November 14, 2006 5:18pm CST
What do you think of Japanese killing whales for so-called scientific research? Why can they not use whales which have beached themselves, such as the whales beached in New Zealand recently?
2 responses

• Australia
20 Nov 06
I hate the thought of killing whales for scientific research or food for that matter. They should be allowed to live in peace. Beautiful creatures. (having said that- this is a bit of an unfortunate position for this particular whale to be captured in...)

• Australia
16 Nov 06
That's one well endowed whale!!!