things to thrown

India
10 responses

• India
28 Nov 09
hi aunty good morning, no, i will clear upto date, because, i don't have enough space to keep the unwanted things, ours is a big house still, there is little almarahs to keep the things, so, i dispose the things that i don't need. thankyou, have a nice day.

• India
29 Nov 09
Hi neelima I think your are a Mrs. clean person and that is why you are clearing the debris then and there unlike me who will amass lots of garbage at home thinking that one day it may be required. Thanks for responding

• Philippines
28 Nov 09
yes I do... I guess everybody does... in my part, I want to give/throw away all those dusty old toys that I have kept since my childhood days... but remembering those memories I had with those toys, I really can't let go of it.. really can't... but somehow.. I want to give it instead to children especially to those who haven't played any kinds of toy... but I have to wash it first of course. Hope those kids will like my toys as much as I like them.

• India
29 Nov 09
Dear friend, I too agree that some thing which we really do not want but we keep it as a memory. For example, I have my father's shirt and my mothers diary which actually I do not need. But since they are no more, I am keeping it as their memory. how can I throw away? Thanks for responding.

• Philippines
4 Dec 09
Hi friend, thank you for honoring me the best response. God bless.

• United States
7 Dec 09
I've got plenty to throw out or donate. My trouble is getting daily tasks completed and then add it to going thru stuff we need to toss or donate.

• India
7 Dec 09
Hi snugglebunnies Sometimes I too feel the same and face the same problem. Thanks for sharing your views.


• India
1 Dec 09
Hi prabha I too feel that out of junk, we can make some wonderful things as in the case of my wind chime, which you please see in my response to another friend. This is nothing but best out of waste. Thanks for responding

• Singapore
28 Nov 09
I have lots of such things that keep on piling up with the thought that that they will be used one day . but in all this lot of unwanted material is getting stacked in my home. Lately i have managed to thrown most of the material with heavy heart. my husband dint like this habit of storing junk at home. it only produce negative energy.

• India
30 Nov 09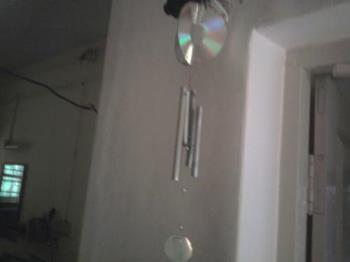 Hi bluray What ever junk we accumulate in the guise of using it later, certainly sometimes we get some handy things in times of need. For example, out of unwanted CDs, sequens, pearls and TV antenna, I made a beautiful windchime and it is very beautiful and produces a good sound and bell sound produces the positive energy.

• India
28 Nov 09
Hi Aunty, Even i have many items like that, which i feel to throw them but still i keep them may be we require them latter or it might be used for any other purpose. I have been keeping this for a longer time which also includes my grandfather's old junk items.

Have a great day

• India
1 Dec 09
Hi deepa You are very correct. What ever items, we think is a junk and needs to discard, one day it will be useful for us. As in the case of my unwanted and useless, CD, sequins, pearls, string collected from the old and torn Rakhi, unwanted cycle pump washer, I made a wind chime which I uploaded here for another friend. You please see it and pass on your remark. Thanks for responding

• India
28 Nov 09
Hi dear, I too have same character, don't want to throw away the unwanted stuff just thinking it will be useful in future. Now I am forcing to throw away something because of my hubby, he is scolding me 'why you are keeping these things just for consuming space' as we don't have much space in our home. But sadly sometimes he feels guilty to thrown something which really needed sometimes and then again spend money for it.


• India
29 Nov 09
Yes sree, We may think of throwing all the garbage stuff but can't do it because either it looks useful or attractive or due to sentiments attached with it, we keep on piling all the debris at home only to invite pests like rats and roaches


• India
28 Nov 09
Some old books that have to be thrown away, but I can't do it thinking I might refer them often, which I never do, lol.

• India
29 Nov 09
Yes. We too have lots of old bookd which my husband used during his MSc days and doing vaccum technology days and so many other books which my FL used, like pranayama, yoga, learn hindi,telugu and kannada in 30 days etc. and lots of notes, palmistry, astrology reg. which neither I can dispose nor keep. Because all in our house knows hindi, pranayama, yoga, kannada, and telugu and since both my sons have finished their BE mechanical, they do not need any MSc or vaccum technology books, it is nothing but junk which I can't throw nor keep

• India
28 Nov 09
I have many. In fact half of my house is full of such things only. Phone instruments that have become obsolete, earlier pc and the full set of it with key board, earlie washing machine which was very much delayed to come out from repair and I purchased new one. steel vessels, which come while redeeming coffee powder purchase points, many cassettes, dvds, cds, Vacuum cleaner, oh God the queue of list is like a tail of Hanuman. Neither can I keep them nor can I throw them.

• India
29 Nov 09
Sometimes such things do pile up even in my house. But we give it for exchange and in this way we cleared our old washing machine, grinder, coffee maker and some other such things and got a new one thus getting rid of some junk from the house. Steel vessels i will give it to friends and relatives and servants as a gift, if the vessel is new and unused

• Ireland
28 Nov 09
Hi vathsala30, I have lots of junk that I just can't seem to throw out, it drives my partner crazy. When ever I do try to have a clear out it never goes well because the same as you I think that one day I might need it. Our attic is full of stuff that we will never use but I might one day have a clear out for real one day and sell it all on ebay, But I know if I do that, it will be the day I need something I have sold


• India
29 Nov 09
Dear friend What you say is correct. Today it may be a junk, but tomorrow, we really need it. Sometimes, for some other work, we need some thing very badly and we keep on searching for it, which we get from that junk very easily, like screws, small wooden block or plank and sometimes old clothes. Thanks for responding.