Talk about a scare!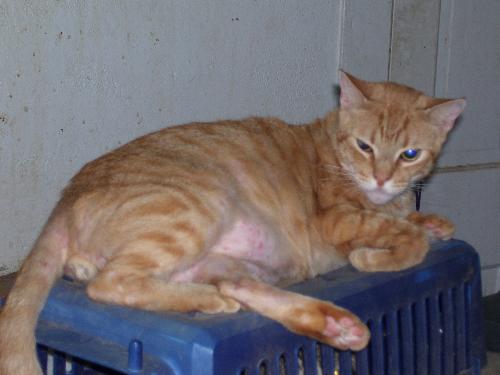 United States
December 1, 2009 8:09pm CST
I honestly thought I was going to have to have yet another of my beloved kitties put down....and that would have made 5 this year including Fluffy and the 3 kittens from April this year. I don't think I could have handled it. Anyway, last week just before Thanksgiving, my big orange tabby, Nemo, started acting funny and drooling a little bit, and his breath was terrible. He would try to eat but he couldn't really chew the food. So we took turkey and gravy and some hot water and mashed it all together and he would eat some of it but not very much. Then he got to the point that he wouldn't even drink water. I actually thought maybe his jaw had been broken, because he and my 1 year old kitten, Whiskers, had been rough housing quite a bit....and Whiskers is a meanie when it comes to playing. LOL! So I waited through the weekend thinking maybe it would get better. But of course it didn't. So yesterday I called the vet and got him in in the early afternoon. When she opened Nemo's mouth, my jaw about hit the floor. His tongue was sooooo swollen! I was surprised that he was even able to breathe. Come to find out he had a gash on his tongue from the base at his throat to the tip. When the vet probed it, all I can say is ICK ICK ICK at the smell that came out. I felt so bad for my baby. The vet ended up keeping him over night, and he was sedated, put on an IV, and they cleaned out his tongue and gave him a steroid shot plus an antibiotic shot. When I went to pick him up this afternoon, he was like a whole new kitty. The vet told me that she was surprised at how perked up he was by morning and that he had actually eaten some of the canned food they gave him. They gave him another antibiotic shot before I took him home, and they actually GAVE me several cans of the food that they gave him...and that's EXPENSIVE food! They gave me some liquid antibiotics to give him twice a day for ten days as well. After that he'll go back and they will check his tongue to see how well it's healed and maybe put him on antibiotics for longer if necessary. Nemo was so cute on the way home....he was in the carrier just loving my hand and my daughter's hand to pieces. And when we got home I had my daughter give him a third of one of the cans of food and Nemo made a little furry piggy out of himself. It was so good to see him eating like that and drinking water. I have my baby back!
9 responses

• Regina, Saskatchewan
2 Dec 09
Good heavens Kat, sounds like you got Nemo to the vet at just the right time. And glad to hear he's recovering so well. Do you have any idea what caused the gash? I'd be searching my house high and low in a panic to find the source in your shoes! Reminds of Spunky coming home with those porcupine quills in her nose..............

• United States
2 Dec 09
My daughter's room scares me as well. So much so she learned rather quick to keep her door shut. Sad cause her cat loves going in there to snuggle among her clothes.

• Regina, Saskatchewan
2 Dec 09
Watch Nemo.........see if he avoids any rooms or areas that he usually has no problem with. That might help in the search. And if he avoids your daughter's room for the next day or so, you'll have your answer. LOL




• United States
2 Dec 09
Dangggggg Kat...how in the world did Nemo get his tongue slashed like that? Whatda he do? Lick the can edge wrong or something? Poor guy was suffering all the time and you had no clue it was something like this. Thankfully it's curable. Could of been any number of diseases or something else that wasn't so easily cured instead. Sure glad he was diagnosed and treated properly. -shudders at thought- Poor guy..give him extra hugs for me please. *hugs* to you as well, Kat.

• United States
3 Dec 09
I wish I knew what the heck the poor little guy did (I say "little" and he's bigger than my fat black cat, Midnight LOL). Even though the bill is huge, I'm still glad I took him in to the vet. I'm giving him lots of hugs everyday for everyone....and he's loving the heck out of all the attention. LOL. I'll make sure to give him extra from you hon.

• United States
2 Dec 09
I am soooo glad that Nemo is okay. As I keep saying, cats get so sick so fast! You really hit it lucky! Murphy has a growth on her tongue that looks like a massive volcanic eruption crossed with warts. It shrinks and grows every other time I look at it. I had it removed once but it came back. I decided not to get it removed again because of the huge amount of stress it puts on Murphy. Did the vet give you any idea what may have caused the gash? I know when Ralphie came to me with his face swollen to ten times its normal size, it was from a simple scratch in the side of his face. Since Ralphie was so wild I couldn't really check it out, and I sure couldn't get him in a crate in the car and get him to the vet. I ended up doing what you did with turkey, chicken etc. I pureed it so he could lap it up and I fed him three or four times a day. It took a few days but the infected area burst (from the corner of his ear to the base of his jaw) and drained (it too, smelled awful!!! ICK!!!). He looked really bad for a month or so, but with a lot of love and care he survived. He was so grateful that he would wrap himself around my legs, sit on my feet, and walk between my feet every time I went outside. I tripped over him so many times that I lost count. Needless to say he no longer was feral! Keep an eye on Nemo's tongue for awhile. Even with the antibiotics, steroids and the treatment there is a minuscule probability that the problem could reoccur. I am so glad that he is okay, and that I actually got notified that you are posting. Hug Nemo for me, Willy, Khuay, Murphy, Ding Ding, and the rest of the crew. Then give him a couple of more hugs!!!


• United States
3 Dec 09
Nemo is most definitely getting hugs from everyone....I have no problems with that (although sometimes he looks at me as if to say "mom, do you MIND?" LOL). He's going back in next Friday to be rechecked and maybe put on more antibiotics if necessary. He's being SUCH the lovebug now. I've been headbutted so many times in the chin from him being so happy that I think I have a permanent bruise. LOL! But it's all worth it for sure.

• Singapore
2 Dec 09
The antibiotic has certainly worked wonders then. That's cool, and I'm happy for you that Nemo is on the road to recovery.


• United Kingdom
3 Dec 09
Well I am glad that he was able to be saved Did the Vet say what it was and what might have caused it I think that would have scared me very much to Just take care of the little Baby and I am so glad that he is fine Love you and big Hugs

• Australia
9 Dec 09
Oh gosh, poor Nemo, he must have been in agony and so very, very hungry. He must have been healthy otherwise to make such a quick comeback. I wonder how he got the scratch in the first place. He must have got something he shouldn't have for it to become so badly infected as well. I'm so glad to hear he is doing ok now.


• Australia
3 Dec 09
That's wonderful! I love hearing happy ending sick cat stories. I am pleased that Nemo is eating and returning to normal. I lost my 13 year old feline friend on the weekend. He had to be put to sleep because we suspect he had cancer which had gotten so bad he would no longer eat at all and could not walk more than two steps at a time. My daughter and I were heart broken and could not stop crying so my husband took us to the RSPCA and got us a new kitten which is a real handful; I had forgotten how crazy kittens are! He is a cutie and will never replace my other one who I miss each and every day but the new family addition sure keeps me occupied!