Hybux Is Back and Looks Better than Ever!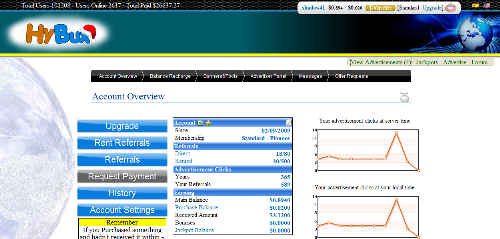 Philippines
December 1, 2009 9:20pm CST
Hey fellow hybux members! Yesterday I received a lot of pm's asking me what happened to hybux. Ahaha. I guess I'm that popular now in relation to hybux. Well, after those discussions I've made about them I should be well prepared for this. So, what happened to them yesterday? I guess a lot. They upgraded their script. And for me, almost all is good except for one thing. What is it? It's their membership upgrade fee! I hate it. From 69 dollars it's now up to 90 dollars! Just like neobux! I hate it because I didn't purchase it when it's still a lot cheaper. So friends, hybux is up and running again. It looks better than ever. With cool looking interface. So what are you waiting for? Go and check your accounts. Let's check some bugs and report them. Happy hybux clicking my friends. Let's earn!


10 responses


• Philippines
2 Dec 09
I also hope they won't. I invested a few dollars there to rent referrals and I'd like to earn that back and more first before they go down. Haha. Hybux is still having some problems right now and it sucks. I'm losing money from my rented referrals. shadow41


• India
3 Dec 09
hey ace,me thinking of joining hybux.com.Me have not been a member of it still now,but now thinking of becoming.But the reviews are littel scary about it.It was down for sometime and its a new site launched in 5th june 2009.SO me a little skeptical.Anyways I have joined under you.

• Philippines
3 Dec 09
Hi man. I really appreciate it. Thanks a bunch for joining under me.


It's not that scary man. Just don't invest on it with your own money. Not until you can see by yourself that they're legit. I was paid by them and I took the risk to invest and rent some referrals and the returns are very good man. Don't worry, if you get to encounter some problems I'll help you. I'll post your problem in their forum. And maybe if I get to experience some problems with them too(again) maybe you can help me too. Hehe. Let's help each other out. Again thank you so much my friend.

shadow41

• India
4 Dec 09
hey no probs dude.Hey tell me one thing have you been paid through?Is it necessary to have a premier account to get payments?Moreover in trekpay is it necessary to verify my account to get credited????


• India
2 Dec 09
hey, cool man, today morning i logged in but the service is unable to open, i will check again, and let you know, anyway, thankyou for your information.

• India
2 Dec 09
hurrey, it was opened, thankyou yaar. have a nice day.

• India
2 Dec 09
Yesterday evening,i was able to log in to my hyhux account,but today after logging in to my account,after few minutes connection to the site is unavailable.I think it is a technical problem and they will resolve it.

• Philippines
2 Dec 09
Oh you're lucky to be able to log into your account yesterday cause I can't. I'm also experiencing the problem you're facing right now. Just hit the refresh button of your browser over and over until the page is okay. They will fix this soon.

shadow41

• Philippines
2 Dec 09
Yes I cannot log in to hybux yesterday... Tried several time but failed... It is now up. I hope it will be better than ever too. I didn't know about that upgrade fee... Too bad, that is a bog difference... I did not see the discussion about that yesterday, I was here for few minutes only...

• Philippines
2 Dec 09
It's really of a great difference. From 69 dollars to 90 dollars. It's now same with the golden upgrade of neobux. It's quite a bit expensive given that they haven't proven fully their legitimacy yet. It haven't proven itself that it can withstood the test of time so I think raising their membership upgrade fee that much is a bad idea. shadow41


• Philippines
2 Dec 09
Well, I can't access the site. It says forbidden or something like that. I think it's because of IP issues on my ISP. I'm using a LAN type where we don't have a permanent ip address and we share some of them, so we could be mistaken as having multiple accounts

.

• United States
2 Dec 09
Well I agree it is back. I was so glad to see it come back. I am about to reach pay out there again and I was hopeful it would not close being that I am getting ready to get paid again lol. Thanks for the update though and its great to see you positive about it.

• India
2 Dec 09
Thanks for the info and I hope this site will live longer and I trust in this site and earning good. Not got my first payment but joined when the payout was $2. But now changed to $5. But wanna take that payout before it is raised higher... LOL

Cheers


• Las Pinas City, Philippines
2 Dec 09
thats good to know..thanks for the update...