Pretty Asmara - a Indonesia actress admitted difficulties use bra because her bo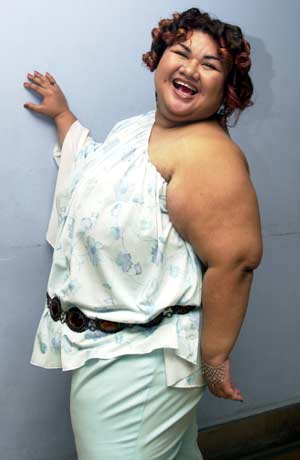 Indonesia
December 2, 2009 1:14am CST
Too fat sometimes cause problems for the sufferer it. Pretty Asmara - a Indonesia actress admitted difficulties use bra because her body is very fat. lol! Pretty don't want often to measure weight her body. But the last time she touched the weights, her body weight reached 150 kg more. has a body that is too fat indeed have Big own risk. Fortunately the risk of health problems experienced by Pretty is not too serious. SHe claimed never to feel shortness of breath or difficulty walking. But in a dress, she admitted having difficulty. "If ordinary people wearing a bra easy, I must assisted others. lol But a large body can't make Pretty feel inferiority. "inferiority is not only belonging to the fat people. thin people can also feel inferior and every person must have felt it". hmmh .. a slogan for fat people to continue to feel beautiful ... lol
3 responses

• Morristown, New Jersey
3 Dec 09
Some people can't help being fat. All my life I was at a healthy weight. Then I developed a thyroid condition- its under-active. I have to take medicine for it, but despite the medicine, I have gained over 100 pounds. I eat less than anyone I know, but I can't lose the weight. Am I supposed to hate myself because I'm fat? I've been dieting for ten years and cannot lose, can only hold my weight steady by eating practically nothing. I have friends who are on medication for medical conditons that cause them to be overweight. Lithium for example, causes weight gain- my friend was 180 pounds when he started and is now over 300 in just five years. He eats hardly anything. That is why people shouldn't judge- not all overweight people are lazy and careless. People need to respect others.

• Indonesia
3 Dec 09
sorry, my friend ... I made this posting was not intended for people who have problems of excess weight ... probably a good idea you read last sentence / slogan of pretty asmara which essentially says, "the problem of not confident self (unsecure) is not just a problem for those who have too much fat weight, but also owned by lean people, and everyone also has the problem not confident" ... So, please understand this my posting as a trigger to your passion remained confident. Whoever you are, you are entitled to be what you expect .... and for me personally, as you say, fat is not a symbol of laziness and I think that's a true. The most important thing in life is healthy and keep actively moving

• Philippines
2 Dec 09
too fat! too fat! too fat! i can see where you are going with this, in america airlines nowadays are having a hard time because their passengers are said to be too fat to fly :P this is a major problem... and the food that we eat is not balanced at all. its just not for everyone...

• Indonesia
3 Dec 09
lol. a passenger who weighs 150 pounds more than same as heavy baggage in the cargo aircraft, and that's may violate the minimum limits passenger luggage