Weirdest place you have found your cat

United States
December 2, 2009 3:32am CST
I was stumbling and just found a picture of a cat laying on top of a deer head, (buck head whatever), mounted on top of the wall. I have 4 cats and a lot of the time I find them sleeping in our lounging in the weirdest places. Like on top of the fridge, or in empty boxes, or in the sink. What is the weirdest place you have ever found your cat?
5 responses

• Singapore
2 Dec 09
I don't have a cat but i have seem cat hiding in a dog shed !!!

• United States
3 Dec 09
That's nice. Cats love to be dogs sometimes and likewise.

• Hartford, Connecticut
2 Dec 09
I have found cats on top of the cabinets (we have 10 foot high ceilings) or on top of the refrigerator, sleeping in the litter box. I had one cat that I found standing on top of my bedroom door.. Couldn't figure out how he got up there til I saw him jump from a closet 4-5 away from the door a couple weeks later.. (now the typical door is only an inch to an inch and half wide.. It still amazes me to think about him making that jump and "sticking it" - if the door had moved he would have fell. Quite amazing. Another disappeared in my apartment and I found his hiding spot a few days later (after seeing his foot disappear) He had climbed into (from a hole in the bottom) a heater mounted on the wall (kinda like an oversized A/C box). I hate to think what could have happened to him if I turned it on and didn't know he was in there. I am sure there are more that I am just not remembering at this time.. But with 14 cats (at the present moment) I see lots of strange things all the time.

• United States
3 Dec 09
Oh boy that is a lot. I have had almost that many at a time. Yes they probably do find all kinds of places to sleep. So far I am voting the cat sleeping in the litter box as the weirdest one though. Usually cats like to stay way clean. But with all those friends to play with he was probably just exhausted.

• United States
4 Dec 09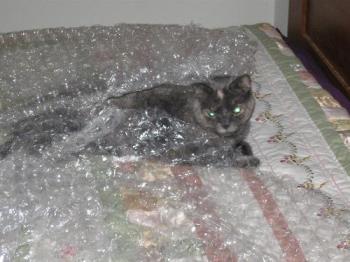 Under bubblewrap. One of my cats has a marking problem and she was soiling my guest bed. I had newly moved into the apartment and all I had laying around to discourage her with was a large sheet of bubble wrap that had come off some piece of furniture or something so I laid in on top of the bed in order to stop the bad behavior. Now my other cat likes to lay on beds to sleep so the bubble wrap posed a problem for her, until that is she figured out a way to burrow underneath the bubble wrap and I can safely save this is the strangest place I have ever found one of my cats.

• United States
4 Dec 09
That's funny! Thanks for including the picture.

• Greenwood, Mississippi
2 Dec 09
I've "lost" my cat in the house a couple of times, and both times I eventually found him deep inside a closet behind suitcases and other junk. He sure does find some weird places to sleep sometimes -- I wonder if he knew how much I was panicking when I couldn't find him! That's part of the fun of cats, though...they keep you on your toes.

• United States
3 Dec 09
Yes for sure. I have found my cats hiding in weird places too, probably because I have kids that like to mess with them all of the time.

• Netherlands
2 Dec 09
My cat seems to do wierd things too, everytime i come home to my parents on visit it instantly jumps up on top of my suitcase to sleep, or my laptop case for that sake. Beside for that it always wants to drink the water directly from the sink in the toilet, or in the bucket of rain water my mum always have standing for her Orchids. I believe cats can almost be found everywhere unless the fysical abilities limits them, they are truely their own master.

• United States
3 Dec 09
Yes cats are very unique creatures, with a mind of their own.