Does anyone have a DDR set?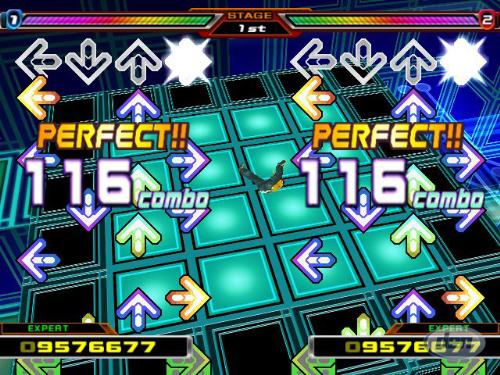 United States
December 2, 2009 8:08pm CST
My friend has got DDR I thought it was funny. My cousin has DDr its pretty fun to play with other people. Dance Dance revolution lol its like on most playforms. If you haven got this game you should just go to some arcade and play it. Its even on nintendo ds..wth. lol. Its almost addicting and better then wii fit...well thats my opinion. sooo... yyah... tell me.
6 responses

• Philippines
23 Apr 11
I really love playing DDR!

At first, I was really not into it, but then I got addicted to one song, then another, then another until I sort of mastered it.

I have this dance mat in my house but we do not have the console, which is pretty bad.

However, I play in the arcade anyway. Have a great day!

• United States
8 Dec 09
Yes, I have had DDR on Xbox since I was in about Jr High. It really is fun to play but it's better to play with other people because you can compete with them and see who has the best score. It also makes for a fun game to play during parties, which I've done a number of time =] I believe that DDR is both on PS2 and Xbox but I'm not sure about the later version of the systems. I've never tried Wii Fit so I can't really compare, but I do agree that everyone should give DDR a try. It's a great fitness game for when you want to just get some exercise in each day. I didn't know that it was on the DS!! That's quite weird...But regardless, everyone should definitely try DDR if they haven't tried it.

• Singapore
3 Dec 09
Well i have it but not 2 set but 1 set , so i can only play myself or see other people play.

• United States
3 Dec 09
We had a DDR set but that was ages ago. My siblings were so into the game that they went out and each bought a DDR mat. We ended up having three of those. We use to set it up and play in the living room when we had little get togethers with our friends. It was really fun to watch some of the people, they were so bad and awkward at it. I, myself, was never really good since I didn't play it a lot like my siblings. But it was a good work out to play DDR though. I don't know what happened to those mats but I'm pretty sure they're around somewhere. Can't find it since we moved.

• United States
3 Dec 09
I had one for my PS2 YEARS ago when it first came out. I probably have the mat around somewhere..Not sure where, though. Hmmm. I never really got good at it, though. I'm too embarrassed with my lack of skills to go play it at the arcade. It seems like the only people who play it at arcades are people who are BRILLIANT at it, and I'm certainly not (seeing as how I could never get past the "beginner" level. lol.) But it certainly was a good workout.

• United States
3 Dec 09
I don't have ddr but am vaguely aware they provide a mat with it. They do don't they? I was thinking about getting that some day, I think it'd be nice to have and definitely good exercise.