Love me love my dog

China
December 4, 2009 6:43am CST
I didn't like dogs,but when after high school began to love the dogs,this is because when i was in the high school I like a girl, she likes dogs, so love me,love my dog,and since then, a dog is always in my home , because she has became my wife,ha ha ....
4 responses

• Canada
10 Dec 09
We have had a dog in our marriage all the time, yes all the time. We could never be without one in our home. So if people don't like it, so be it.. REMEMBER ALWAYS LUV/ CARE FOR YOUR DOG/ PET, THEY WILL ALWAYS LUV U..

• Czech Republic
4 Dec 09
I was really afraid of dogs when I was little. I always climbed some tree, fence or some structure when I've seen a dog around. When I was around 10, my parents got me a dog to get rid of my fear of them. It was really a matter of weeks:) Now almost 13 years later, she (my dog) is still here with me and she's truly part of our family.

• Philippines
4 Dec 09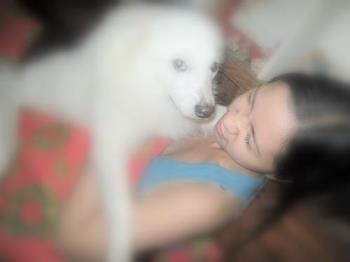 wow... that's so super nice... congratulations... so you love dogs now too as much as your wife loves them?... I love dogs for a lot of reasons. They are the sweetest thing on earth... they guard your family at the same time they give fun to the whole family. Dogs nowadays became one of the family member, and others adopt a dog to complete the family. Cheers to you and to your dogs.

•
4 Dec 09
I dont dislike dogs as such but I dont enjoy being around them much. Five years ago, my husband brought a dog home - again,I dont ddislike the dog itself, it a nice enough dog, but I am really not comfortable having it around. So, if ever he left, the dog would have to go with him