Does India deserve the No1 Position?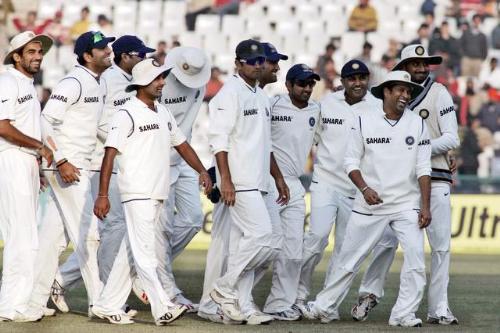 India
December 5, 2009 10:02pm CST
When the current match is over by today, India will become the No.1 Team in Test Cricket. The team has already got a series of victories over other countries in recent years. After Kirsten has taken up the coaching, India have really shined in their batting and fielding departments. According to me, they really deserve it. They have played well, every player of the team has something to do with it at some time. Do you think India really deserves it?
6 responses

• India
6 Dec 09
I think India definitely deserves it as they have been the best test side over the past two years. But they still have scope of improvement with series victories in Australia and South Africa still missing from their report. I think these victories would be the key to India staying on top for long. Cheers! Ram

• India
31 Dec 09
I love the indian cricket team and would love to see the team at the Top, but to be brutally frank, this team does NOT deserve the No.1 Position. Why?? The Opening Combination is World Class. The Middle Order is the BEST in the business. The Wicket Keeper is, again, right at the top. But, the bowling is a worry. Zaheer Khan is good, but injury prone. Harbhajan Singh is good, but there is no Support at the other End. Ishant Sharma, Praveen Kumar, SreeSanth are good but only in patches and only on bowler friendly conditions. Unless the bowling improves, I do not think India deserves this rating. Look at Australia, inspite of losing 5 World Class Players, their reserve bowlers continue to impress and are making rapid strides.

• India
7 Dec 09
Is tough to say whether they are the desrving no.1 test team..................... bt they will be the deserving team if they can hold on to there no.1 test team status for a long time............

• India
7 Dec 09
India will be playing only 2 tests in the next 6 months, but australia will be playing at least 5. I don't think they will remain at the top even if India win both the two matches and Australia loses all of them. Because even if there is a single draw the teams will get 1/2 points each. Which means India is out of the position.

• India
6 Dec 09
Well there is nothing about deserving and not. They played well for a long time. They scored the points and now they have reached the top position and that is what is more important. No team is awarded with the top position just like that. You have to earn that and India did that. It was evident that it was coming with time. They have a very strong team and were performing very well for the last few seasons and now it is evident.

• India
6 Dec 09
[b] yes i truly think that the our Indian cricket team deserve the number one position in the world ranking cause our team is so fine and good players that we can beat any team with the challange

• India
6 Dec 09
India definitely deserve the number one stop in world cricket. The series of victories over the recent years and the hard work for those have paid way to op stthe top. The batsmans are in peak form of their career and Dhoni's captaincy is the main reason for the team to perform this better. Apart from that Dhoni's batting is also one major reason that makes INDIA no one in world cricket.I dunno how long they can hang on to the number one spot.