Pandorum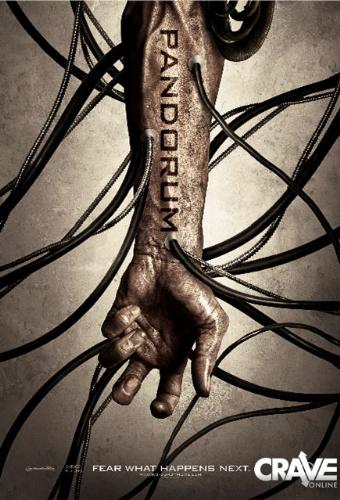 India
December 7, 2009 11:24am CST
Hi friends!! I just watched Pandorum yesterday and would recommend it to all science fiction thriller movies lovers.The movie takes place in a space craft where two astronauts awake in a hyper sleep chamber aboard the space craft.They can't remember a thing as in what are they doing on the space ship and who are they and slowly the whole story unfolds.The movie has a solid story line with good special effects and good acting by the actors especially Dennis Quaid.Has anyone seen this movie,what are your reactions about the movie?
5 responses

• United States
8 Dec 09
I went to the movie with my dad and sister...and we all enjoyed it. The monsters in the movie were so scary!!! Plus, I love Dennis Quaid. There was ONE scene that got to me, my dad and my sister all in the same way. It was the scene where the ground were runnin through the 'nest' area..and they passed one of those hyper sleep chambers, and it opened right when the monsters were coming. And that poor guy woke up only to be killed by those things... When that chamber started opening I was like

Nooooooooooooooooooooooooooooooooooooooooooooooooooooooooooo, that's awful!My sister said for her the awfulness "just kept going" and she couldn't get over that one scene. And my dad said it was the most uncomfortable scene. lol It leaves a mark on you forever!

• India
9 Dec 09
Hi!! My initial thoughts about the movie when I started watching it was that it seemed on the lines of Old Boy and wasn't aware about the alien monsters in the movie.I just jumped on my seat when the monsters were introduced in the later part,yeah they were indeed a bit scary.Overall the movie was very good :)

• United States
10 Dec 09
I don't know what Old Boy is O.o Is it scary? I knew there were monsters in it, but they are really creeepy! Everytime I saw that blue light coming I think I squished back in my seat a little! lol I really thought they were going to make the ending bad; I thought all those pods that were popping up were going to open and the creatures were going to be in there! lol. I'm really glad it had a happy ending!!


• Indonesia
9 Dec 09
Sorry, never heard this movie before but i like Dennis Quaid's movies, he's one of the good Hollywood actors

• Czech Republic
7 Dec 09
I have it on the computer. I'm going to see it when I'll have the time. Looks pretty good.


• Indonesia
9 Dec 09
Sorry, never heard this movie before but i like Dennis Quaid's movies, he's one of the good Hollywood actors