Have you ever gotten a virus before, if so in what form?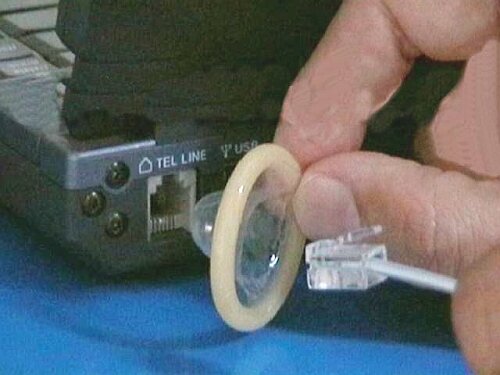 Malta
December 9, 2009 11:16am CST
Ok so my question is if ever someone got a virus before, and in what type/form he managed to receive it as. My experience is rather intresting. So, i downloaded a music track from a website - that part is fine. When i came to open it, i opened it with windows media player. However, when it opened, the file couldn't play and a pop up from WMP came up telling me, i have a missing codec, and i should download it here. So presuming it wasn't a virus, since i have never experienced it before, i downloaded the file, and opened. When i opened it the file automatically installed and this sort of Registry cleaner program came up, telling me i have infected files etc. And to clean them, i had to buy the software etc.... This software kept on popping up and couldn't be close ( it didn't let me access task manager). So therefore i researched this typo on the net from my moms laptop and saw it was indeed a common one. I descovered that all the files that this registry cleaner had spotted where actual startup windows files.. OMG!... Anyway i ended formatting my computer, so i lost everything anyway. Thanks for your responses.
6 responses

• United States
10 Dec 09
I always have anti-virus software running on my computer so usually viruses are caught before they can do damage. But one virus or trojan or other bug did manage to get onto the computer I'm using now and made no visible affect at first. But some days or weeks later I discovered that nearly all the free space on my hard drive was filled. I'd gone from having almost half of the hard drive unused to having 99.99% filled with who knows what. I did a virus scan and that didn't fix the problem. I removed several programs from the computer but soon after I'd freed up some space it was consumed again. Thankfully a friend from church took my computer and spent a few weeks working on it until he managed to clean up the drive and free up a lot of space which remained free. I've since changed my anti-virus protection from McAfee to Norton 360 and I'm hoping I'll have less trouble. But I suspect that no protection system is perfect.

• United States
10 Dec 09
Your right, no protection system will always be enough. You must always be watchful of all files (always scan before opening) and on the emails that you get only open the attachments you are expecting from friends because even legit emails could get a evil attachments.

• India
10 Dec 09
Hello evydabest this is checkmail and me too had an virus pro once before, mostly about 1 year before.Yeah i was just simply downloading some free contents of music and videos and softwares.And all of the suden mine computer screen started to display addons/popup windows and also sometimes terminate all the programs.I tried mine regular antivirus but were not able to delete the virus.So called an technician and got it cleared, by formatting it and gave me an most effective antivirus software.Now am really checking each and every file that i download from the net.Anyways happy mylotting.

• Malta
10 Dec 09
thanks for your response, i too now take more caution to all the files i download. Being more experienced with these things, i am much less gullible then i was, when i was first introduced to the net.

• United States
10 Dec 09
I've gotten a virus like that. Except, mine started out in Mozilla Firefox displaying a fake windows prompt that says my computer was infected. I was kind of ignorant at the time and the virus downloaded itself into my computer and deleted some files. It installed a fake anti-virus and fake registry cleaner and I couldn't close it. Anyway, to fix that problem, I booted my computer into safe mode and ran my anti-virus to delete it. My computer ran fine after that.

• Malta
10 Dec 09
safe mode huh? never tried that before, however i will in the future, thanks fore responding btnngo.

• Daytona Beach, Florida
9 Dec 09
I've been lucky enough to where that really hasn't been a problem. However, I've gotten those pop-ups before. Its funny how they claim to clean your computer, but in reality those files should be there. I only use trusted anti-virus softwhere, because I don't like having my computer crash because its "cleaning" or in this case not cleaning files it claims are there. Its so anoying.

• Malta
10 Dec 09
Wow, so you have never been infected before, thats cool. Yes, i too have a good anti virus, but the point is, some files still manage to infiltrate my system :(.

• United States
10 Dec 09
I once had one but that's back in the day when you got them from diskettes, since the internet I'm very careful about what I download, what emails I open, what attachments I open and were I surf. Cross fingers and toes, then knock on wood; I've gotten lots of malware though, and even got a simulator POP-UP that your talking about although not one, that I could not open task manager then close all the windows and reboot.

• Philippines
10 Dec 09
I have an antivirus installed on my pc so I don't need to reformat my computer again and again. The antivirus does its job cleaning and removing viruses and spywares. My old pc got infected with viruses and trojan horses which made my internet connection and browsing impossible. Norton detected but did not remove all of the viruses and so I just manually removed it myself by booting through the floppy drive, looking for the name of the file(virus) and deleted it.