pet birds

United States
November 14, 2006 10:35pm CST
Do you have a pet bird? If so what kind, and what is your funniest story!?!
9 responses


• United States
15 Nov 06
I suggest cockatiels but then again I am a bit partial to them... they are sweet birds though.


• United States
15 Nov 06
my cockatiel doesnt have any tail feathers either, but i saw some coming in i think


• United States
15 Nov 06
i have a cockatiel named fanny mae, we got her from a relative who's friend had passed away and no one wanted the bird so my husband suprised me and brought her home and she is like 15 years old with a broken wing. she is a sweetheart some of the time. she is terrified of hands, we think that is how her wing got broke in the first place.

• United States
2 Dec 06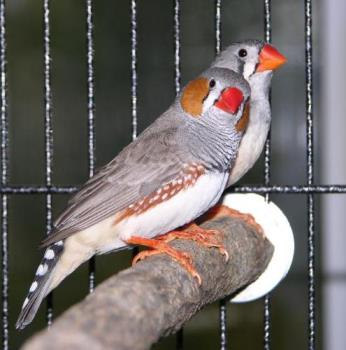 I have 5 finches. The funniest story with them is, the time when I had first gotten them, they came to me in a cage that I felt was too small. I quickly put them in a larger cage, but still felt that it was too small. So someone else with finches told me that it was okay, because I could let them out for exercise. I did this before with my budgie without problems (well, without major problems), so I figured everything would be okay. They told me that eventually, the birds would go back into the cage for food and water. They must have somehow thought that I only had one finch. Because everytime a bird went into the cage, another went back out. It took me forever to catch them all again!After that, I bought a huge cage and now they don't come out of it.:)

•
3 Dec 06
No I don't. But this is A true story swear on my life. When I was a child. I was waiting with some of my friends on another friend. the next thing a parrot flew ontop of my head. Its claws were stuck in my hair and everyone was screaming lol


• United States
2 Dec 06
My sister has a cockital name Sandy She lays eggs for her like three at a time... What she tells me is that means she loves her very much. Shes a very sweet bird.