Who is the best team in the world............. Brazil OR Argentina?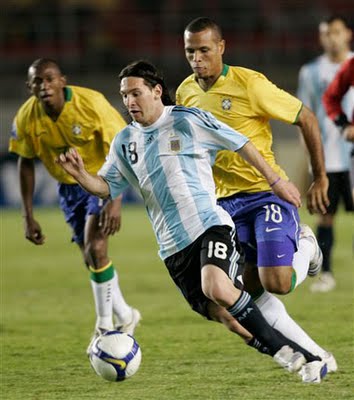 India
December 13, 2009 11:06am CST
The Brazil National Football Team is the national team of Brazil and is managed by the Brazilian Football Confederation (CBF)that represents Brazil in international football competitions.They are the most successful national football team in the history of the world cup,with 5 championship (1958,1962,1970,1994,2002). Currently ranked 2nd by FIFA, Brazil is consistently among the strongest football nations by Elo Rating and is the only team to have played in every World CUP. Other side, Argentina is one of the most successful national football team in the world, and is currently eight in the FIFA rankings.The team has twice won the FIFA World Cup, in 1978 and 1986. Argentina has won the COPA America 14 times, a record shared with Uruguay, won the Confederations Cup in 1992 and the Olympic Football Tournament in 2004 and 2008. Argentina are the only national team which have won the three most important men's titles recognized by FIFA: the World Cup, the Confederation Cup, and the Olympic tournament. This team have also won their respective continental championship (Copa America for Argentina, and UEFA European Football Championship for France). So whats your choice Brazil or Argentina???????????? What did you think of their position in the World?????????? Witch team would you like to see next Word Cup Winner????????????????
7 responses

• Italy
23 Mar 10
At the moment it is still Italy! I'm joking of course... Although I'm Italian I believe the strongest team is Spain. Argentina could be the strongest team ever if Maradona were a good trainer... Diego Milito should be in their team. He's one of the strongest forward players ever!


• India
15 Dec 09
I feel that Brazil is a far better side than the current argentine side . Brazil have a very good line up with world class players than argentina. Kaka, robinho, ronaldinho, diego & co are really in very good form rite now and they ll surely win the world cup for the 6th time. Though Argentina also has star players such as messi, aguero,etc.., they lack the team spirit and chemistry required to win against big nations. In that aspect, Brazil has been performing really well against top teams and i support them to win the world cup.

• Argentina
14 Dec 09
Also I think Messi is going to be the best world player in FIFA World Cup 2010

• Argentina
14 Dec 09
I think both have its own way to play. But Argentina has a plus: Lionel Messi, the best football player in the world...

•
13 Dec 09
Well, in my opinion there is no question, its Brazil, the statistics are there to back it up, they have won the world cup more than anyone else, not only that Argentina were lucky to even qualify for next years tournament as far as i am aware. Although looking at the brazil squad right now i would say its probably the weakest lineup they have had for years, i dont think they will win the next world cup. so basically they have had historically the best team but currently they are not the best team, nor is it argentina.

• India
13 Dec 09
Hey this one is an interesting discussion.I think brazil has always had a better team.THere players have been much more talented then argentina,but I dont know why I have always been a fan of argentine.I think argentina's playing is much more beautiful than brazil's.THey involve so may passes and its artistic. Moreover I support Argentina just because of one reason.I can relish there win much more than any other team's.No doubt brazil wins in most of the cases but whenever argentina wins I enjoy it much more than a brazilian fan.....