Sing off: will you watch?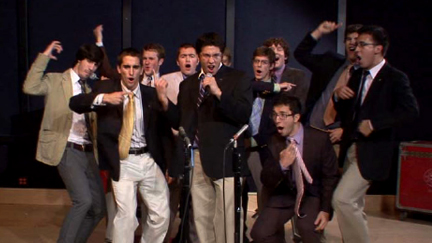 United States
December 14, 2009 6:05pm CST
So, tonight (Dec 14) is the first night of the "Sing Off" on nbc. I've been seeing so many promos for it the past few weeks, and I must say it looks interesting- it's a competition show featuring groups of musicians that only ue their voices, with no background/instrumental music. It looks similar to American Idol, there are three judges. One of them in the lead singer of the Pussycat Dolls, and the show will be hosted by Nick Lachey (aka ex-Mr. Jessica Simpson, lol). The Sing Off is a special, so I think it will only be on tonight, tomorrow night and wednesday night. Will you watch?:o
3 responses

• United States
15 Dec 09
So far it's been pretty good. I didn't like the girl group from Utah. The lead was way outside of her range and it was kind of bordering on painful

And Ben Folds is a judge!

He makes me smile.

• United States
21 Dec 09
Finale on Monday! I hope the 'Bubs win (although they have kind of stolen the show already). And Ben Folds is going to perform! YAY!

• United States
22 Dec 09
Congrats to Nota for winning the competition....i really enjoyed this show. There were some VERY talented groups on it. I also liked the fact that is was just a one week-competition/special. Too many of these shows run on and on and on and get tiresome. It also came at a great time because many of the other regular shows i watch are all on hiatus and showing re-runs til after the new year. I was rooting to the bubs and nota the whole time, glad to see that the finale came down to the two groups i had picked out in the begining!!

• United States
15 Dec 09
I might flip the channel over once in awhile to catch a little bit of it but I would rather watch my shows that are on. I can't miss my comedies! It does look pretty cool though. I heard the clips on the commercials and it's neat that they can sing like that with nothing else backing them up.