How did you get your screen name?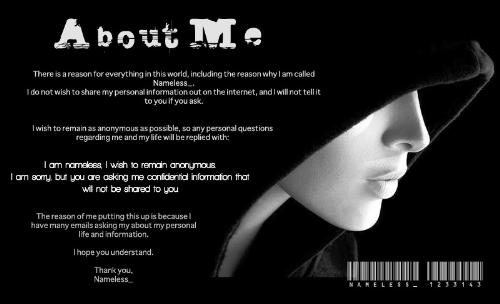 Australia
December 16, 2009 3:16pm CST
Hello people, I see that everyone is trying to get a screen name of their own, and they need a cool one to show off to their friends. My question is: How did you get your screen name?I mean, it so wierd, isn't it, of course, there will be popular ones, but many people have their own personal ones. I tend to go for not unique ones though... and the pic below says why my name is nameless. Anyway, what is your story?
3 responses

• Daytona Beach, Florida
17 Dec 09
I honestly can't remember. I was looking for character names and was chatting with friends one day when someone suggested 'kayla' to me. I thought it had a ring to it. a nice ring. I am an advid fan of Sailor moon, so I chose Tsukino. To make the name complete. However, I wasn't sure if I could use it here (seeing as how I have to use my real name to get paid) so I settled on it with the japanese sufex 'chan' which is often used to show friendship and fimularity.

• Australia
17 Dec 09
Ah... OK. Yeah, if you didn't tell me, I'd think that Kayla Chan was your real name. I guess it isn't though... Hmm. Yeah, kayla has a nice ring to it, I suppose. :)


• Australia
16 Dec 09
What? You'll have to kill me? maybe because you are a serial murderer? Ooh... I'm scared now. I wish I didn't make this thread. :P


• Australia
16 Dec 09
Hey, that's nice!!! Wow... so, you're the devil, huh? I like it. Ah... and I understand what the numbers mean now. :) I never really understood why people put numbers in their name. :P