Anyone on here from Oregon?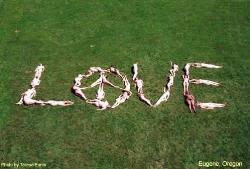 United States
November 15, 2006 12:59am CST
Where abouts do you live? Do you like the city that you live in? Do you know of any cool places to visit here? I really want to make a trip this Spring to go check out the Oregon Vortex, that place sounds really trippy. They say that as another person, on a level platform, recedes from you towards magnetic south, they appear taller. When they approach you, coming towards magnetic north, they become shorter. People report feeling dizzy there and i was told there is a spot there were you can jump down the hill side but you just kind of float towards the bottom. I know it sounds really crazy, that's why i want to go check it out for myself. Compasses act all wild and point in the wrong directions there. Enough about that for now though, back to the topic. I'm near Eugene, i love this city. We have the Saturday Market that i love, one part of it is all organic farm stands and the other, another part is the food area and there are all kinds of yummy things, (my fave being the Tofu Palace) there's always live music going near the food area and the rest of it all is vendors. There are some really great people and talented artists there. Another of my favorite things about the Saturday market is that one almost all the street corners there is a musician playing for change, but there are some really talented folks that do that. SOmetimes it'll be a little girl and her fiddle and other times it's an old timey sounding band with a bango, washboard and a broomstick on a metal drum in a makeshift bass. I have lived all over the country and Oregon without a doubt has got to be the best place i have ever lived. Awesome people, green country, how can you go wrong?
No responses