Can we really earn money from facebook?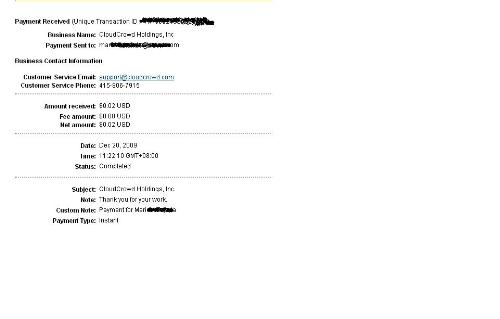 Philippines
December 20, 2009 9:57am CST
Yes, we can earn real money from facebook. I just got paid today.:) There's this facebook application that lets you earn money for completing tasks. If you complete a task today, you get paid the next day through paypal. You don't have to request for payout. They will automatically send you the money. There aren't much tasks as of now but they send a notification e-mail whenever there are tasks to do. You can also earn from tasks done by your referrals.:)
8 responses

• India
20 Dec 09
Hey friend I also registered for this application on Facebook but in the last one month there was not a single task to complete . I got fed up . Fortunately I have found a very good site where there are several tasks to complete throughout the day and I have been paid $38 in last 30 days . Each of my payout coming at an interval of 4-5 days. So I found that to be much better than this option.

• Philippines
20 Dec 09
HI champrocker, congatulations to you.:) i would also like to know what site you have earned alot. tnx:)

• Philippines
20 Dec 09
cool! :) what is this site where you've earned $38? :)

• United States
20 Dec 09
Sounds like a good earning site. Send me the Link....


• Pamplona, Spain
21 Dec 09
Hiya pinay, Nice to see you around. I did´nt know that about Facebook at all. Will take a look when I can. Sounds pretty good though.

• Philippines
22 Dec 09
yes, it's a really cool way to earn money on facebook. thanks for the response! :)

• Pamplona, Spain
22 Dec 09
Hiya pinay, Okay yes I will look into it when I can. I suppose it´s the same for everyone this Week and with Christmas Holidays coming up. I´m usually on Facebook sometimes when I can have a bit of leisure time.

• Philippines
21 Dec 09
im adding u to my friend list..pls PM me the link to facebook application..thanks much!

• Philippines
22 Dec 09
pm'd you the link. login now if you can. there are many tasks. thanks! :)


• Philippines
22 Dec 09
sent you a pm. there are many tasks there right now. :)

•
21 Dec 09
hello, just want to know the site also that you can earn $38 in 1 month

• Hyderabad, India
24 Dec 09
How do you get to earn from facebook? and where are the tasks located and what is the application required to do tasks on facebook?...



• Philippines
20 Dec 09
sent you a pm. thanks! :)