The White House has made Christmas a political issue

United States
December 22, 2009 6:12pm CST
or is it just me? I just got a look at some of the ornaments on the tree in the Blue Room... There are many decorative bulbs. One features Mao Ts Tong, another the drag queen Hedda Lettuce and another a picture of Mt. Rushmore with Obama's face carved on it. In the interest of fairness, the news story did say that the Obamas asked local groups to decorate the tree and maybe they didn't know what was on it but I can't imagine being in that public position and NOT inspecting what is on a very public and publicized display. Besides, I don't think Christmas trees should be political or topical. It is about the birth of Jesus, not a reflection of this world but of the past and the miracle that happened, a precious gift to the world. Whether you celebrate Christmas as a birthday or not, that's what it's really about. It's not about politics and I'm mildly offended that those ornaments are on the tree. They have a right to put whatever they want on there, but it just further convinces me that they don't care about anything except their agenda. What do you think of this? Does it further convince you that we have a narcissist Marxist/Communist as a president or do you think it's not worth paying attention to? Remember Anita Dunn said that Mao and Mother Theresa were who she turned to for advice and Van Jones was a self-proclaimed Communist, there are many more anti-democracy officials on the White House staff.
6 responses

• United States
24 Dec 09
Two thoughts popped into my head while reading this discussion, dragon. The first one was, can you imagine the uproar that would have followed had the Obamas or anyone in the administration removed so much as one ornament that had been created? My second thought requires me to look at my Christmas tree so it's fortunate that I'm in the livingroom on the laptop.

I'm a Christian as well as a Catholic but my tree is a reflection of this world...my world. I have silver baby bootie ornaments with very special names and birth dates engraved on them, little framed ornaments with children's pictures in them, pipecleaner candycanes that were created by my children when they were young, a funky wooden reindeer that one of our grandkids made, butterflies in memory of my husband's late wife, a gold ornament that my husband gave to me commemorating our first Christmas as husband and wife...and Elvis because he likes Elvis. Of course, I do agree that Christmas is not about politics but when you give folks the opportunity to express themselves, you get what you get. All this talk about Christmas trees...but I would like to remind everyone that the most the most important symbol of the season is the Christmas crèche, the nativity scene. Our manger was hand carved by my husband's father. He's had that, the straw bedding and the figurines for approximately 40 years.

• United States
24 Dec 09
It's exactly like karoke. Art is an expression. As for the nativity. I doubt they have one in the Blue Room but I'd be willing to bet that there's a family Christmas tree in the private living area, which may or may not include one.

• United States
24 Dec 09
Your tree must be beautiful! I didn't put up my big one this year because I'll be alone but it has those little macaroni angels my kids made, the pipe cleaner Christmas tree, wreaths made of the McDonald's lids and lots else. Those things are precious to me, as I know they are to you. And your manger! Wow, what a priceless treasure. I did not think what would happen if they removed any of the ornaments. That's a very good point!

• United States
23 Dec 09
The First Lady sets the theme, but she's not necessarily in charge of decorating. Let's not treat this as some sort of purposeful tribute by the Obamas for the people depicted. More to the point, though, why is this important? Why is it important to lay the blame on people who had nothing to do with it and to make a big deal out of it? Are we as citizens running out of things to complain about that we have to turn to inconsequential tree ornaments?

• United States
23 Dec 09
We are certainly not running out of things to complain about! And I did mention that they asked local groups to help decorate the tree, they did not set the theme. But I would expect them to look at what was on the tree before they opened it to the public. Do you like Mao being on the tree or a depiction of our narcissistic president being on Mt. Rushmore? This man is striving to turn this country into a Marxist regime, taking away our freedoms and trampling on the Constitution. That's my point. In everything he does, even a Christmas tree, he is following Marx and other dictators. We can't sit by and let these things slip through. He hates America, plain and simple.

• Boston, Massachusetts
23 Dec 09
Remember good old Harry Truman and "the buck stops here"? If someone can point out to me even one failure or major gaffe that this administration has admitted blame for, then we can overlook one or two as being honest mistakes. But first, prove to us you're honest, know what I mean?

• United States
23 Dec 09
I don't care what's on the tree, and that's my point. I didn't care when the tree theme was patriotism, which is also political. I didn't care when the Clinton's Blue room tree had a stocking ornament with candy in Bill's stocking and coal in Newt Gringrich's. Whether or not they saw it, it is their choice to censor the ornaments or to keep them there. It doesn't mean they're maoists, or that they honestly think Obama is as great a leader as those on Mt. Rushmore. I think there are worse things to make a big deal about than ornaments on a Christmas tree.

• United States
25 Dec 09
Not one cell in my body doubts that Obama is a narcissist MARXIST/COMMUNIST. What has ever come out of Chicago politics that is good? NOT A THING! All the CZARS (see definition: a male monarch or emperor [especially of RUSSIA prior to 1917] he's "created" are mere puppets of the master puppeteer, kissing his butt from cheek to cheek and when he says "S*IT," they obey, asking "Any particular color?" Needless to say I DESPISE the man and everything he stands for. (Where IS that legal birth certificate for Barack HUSSEIN Obama?)

• United States
26 Dec 09
Obama isn't the puppet master, I'm sure of it. Think George Soros or SEIU, or someone we don't know about. I can't believe the American voters were taken in so completely by a lot of empty rhetoric. I hope we survive the next 3+ years with out country intact but I'm not optimistic. The new health care bill violates the constitution in several ways, I hope there are legal challenges. I don't relish my taxes being raised, I can barely pay them as it is.

• United States
29 Dec 09
Did you also know that, 1. The Obamas did not attend church on Christmas Day. 2. Did not exchange gifts, even though they made a point of saying what they were going to get each other for Christmas. They are either closet muslims, or Jehovah's Witnesses. I'm tired of the lying these two do.

• United States
24 Dec 09
I'm agnostic and still celebrate Christmas and even vigilantly defend "Christmas" not being replaced with "Happy Holidays" or the winter solstice. So I'm certainly not qualified to say what someone should put on their tree. My grandmother allowed all her kids (11) and grandkids (39!) to decorate her tree, and you'd be hard pressed to find anything on the tree that actually symbolized the type of Christmas she celebrated as a Catholic. But I can totally see why people are upset or at least willing to bust chops over the Obama's tree. It's in the context of everything we've seen and heard since he's been president. And, you know, that's 100% fair. America's president doesn't get the benefit of the doubt at this point nor does he get to be judged on a case-by-case basis. It comes with the job. We've all been inundated with examples like these since he's been president. If not now or by this point, when do alarms sound that this president isn't like others? And I don't mean skin tone

I'm not a big fan of the Bush standard at all, but one can only imagine the MSNBC "Merry Grinchmas" specials and the 60 Minutes slots dedicated to showing how Bush is going against the grain and being a hypocrite by not making Christmas about the birth of Jesus. Details wouldn't matter. And I don't really think it would be unfair. The fact that someone saw fit to put Mao ornaments up and a superimposed Mt. Ego is one thing. Knowing that the Obama's (or staffers or someone else in the admin.) chose the people who did the decorating is another thing entirely -- in the context of everything else, of course. It has whiffs of that whole "we didn't know Van Jones was a loud-mouthed, vulgar, criminal-supporting commie" thing. Yeah, yeah. And I'm selling a 65 Shelby Cobra on eBay for $19.99. Big deal? It's relative, I guess. But I certainly believe it's more than fair to point out the fact that it all tends to meld together.

• United States
24 Dec 09
You mean you can't buy a Shelby Cobra for $19.99?!


But the American people thought it was true so they voted for someone who is turning out to be quite different than they thought--because they didn't listen carefully when he spoke! He told us what he was, people just wouldn't listen, they were hypnotized and mesmerized. Like Spalladino said, to ask that anything be removed from the tree would certainly create an outcry. But maybe that's what we need--we need to re-assert that we are Americans who love our country and constitution. A revolution is coming.

• United States
29 Dec 09
I was very disappointed to learn how much they cost!

Hopefully I can get some of that Obama stash money to put a down payment on one.

• Boston, Massachusetts
23 Dec 09
Goodness, can't you see the inclusiveness and diversity of including famed atheist and murderer of 29 million people Chairman Mao on the White House Christmas Tree? j/k This doesn't surprise me a bit. I don't feel shocked. We know the president is very busy and doesn't have time to check out which oppressive dictators are hanging on his tree. Heck, he doesn't even know who's coming to state dinners. The entire administration is a disgrace and becoming the laughingstock of the world. For all his bowing and kowtowing to dictators and terrorists all over the world, he's even losing his popularity with them. Even Chavez has become disenchanted with the great BO. Regardless of what religion you belong to, or none at all, Christmas is still the day set aside to commemorate the birth of Christ. We can tell that from the name - Christ Mass - and there's no way to spin out of that. To me, trees are part of the season but not part of the religious tradition. However, they aren't meant to be political, just cute and decorative. When a tree stands in the White House, the decorations on it are extremely important and symbolic. These decorations symbolize something deeply disturbing.

• United States
23 Dec 09
All other presidents have appointed assistants to cover this type of situation. Most of our presidents have considered their public reputation and example as an important part of their presidency. Which further convinces me that Mr. Obama is a narcissist of the first degree, which signals yet MORE trouble for our country.


• India
24 Dec 09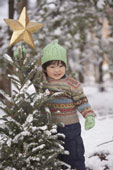 As you have yourself said it, it is not worth paying attention to. A Christmas Tree is normally appreciated as a whole and not in fragments. The whole effect is what strikes one's eye. Also I doubt it if those in the stature of a President would go thru the nitty gritty of decorating a Christmas Tree. These are assignments handled by those who are not so higher up in the hierarchy. You do seem to have an eagle's eye - good for you!