nine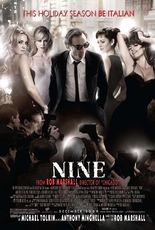 United States
December 26, 2009 4:02pm CST
Have you hear about the movie-musical Nine? It stars Daniel Day-Lewis, Nicole Kidman, Kate Hudson, Fergie and Penelope Cruz. My mom really wanted to see it, so we all went to see it on Chirstmas day- the theater was PACKED with people who were seeing Sherlock Holmes. Nine is about a legendary Italian director (played by Day-Lewis) who is about to start making another movie. It's axtremely hyped, but the director doesn't even know what the movie will be about. He tried to get away and get his head straight, but in doing so all his problems (or women) come to him, and he eventually loses everything. The movie wasn't quite what I expected. It was good, but it felt like (to me) that it didn;t quite flow through the story smoothly. In the previews, the singing parts look all glamorous and cool, but in the movie all those musical numbers took place in Daniel Day-Lewis' character's head.
3 responses

• United States
27 Dec 09
Actually, olisaur, I've heard quite a bit about the movie, "Nine." Sad to say, however, that it was all bad. The reviews for this movie have been horrible enough to ensure that I won't waste money on it. On the positive side, I understand that Fergie's appearance is the highlight of the whole movie.


• Philippines
27 Dec 09
hi olisaur, Oh yes I have heard of "Nine" a long time ago and it was a musical play. I saw the preview of its film on E! News Live and I was so surprised of the casting, I'm pretty excited about Fergie's being in the film and I think she really did good in this movie. Kate Hudson really sang and dances brilliantly, same with Nicole Kidman who is not new in such kind of movie, she was a star in Moulin Rouge. I'm planning to see this film soon!


• Bulgaria
26 Dec 09
I actually thought of watching it, but after I read your review of the film, I think I'll pass. Usually, I don't v=create an opinion about a movie or a book out of somebody else's comments, but this really sounds like a movie I don't want to watch. Thank you for this thread. you just saved me a couple of hours of my precious time :)