Send your name to the planet Venus, Public participation cutoff, Jan 10 2010.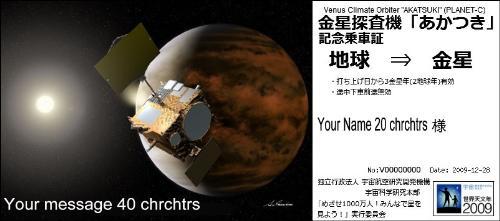 Australia
December 31, 2009 8:57am CST
Hi folks,you still have a few days left to include your name onboard the Venus Climate Orbiter being launched this year toward the second planet our twin in size, Venus. JAXA (Japanese Aerospace eXploration Agency) are soon to launch the Venus Climate Orbiter. I think every one that hears about this should enrole their own names and those of their loved ones. The names will be engraved into one of several Aluminium plates that will be bolted to the side of the spacecraft. Since this is Venus, the Goddess of Love and Beauty. How could you resist the temptation to send the names of yourself and your favourite person/s to such a place of Myth and Legend. The Akatsuki probe team are also allowing a short message, try and make it profound if you can, because it ends up on the bottom left corner of your participation Certificate. Once you have entered the information. (Full Name, may need abbreviating if too long, 20 characters max.) The message may be 40 characters long. Remember, there are lots of us that have to fit on only several plates. Here are the URLs for, more i...nformation, and the actual form page to fill in, and if you like, send a profound message to the second planet. http://www.jaxa.jp/event/akatsuki/index_e.html http://venus.star2009.jp/index_e.php When you have entered your name, and perhaps a message, you may leave it blank, click the submit button, and a new confirmation page will appear with your Name and Message. CHECK THE SPELLING OF BOTH, IF NEEDED EDIT. MAKE SURE IT IS CORRECT. It's going to Venus. Click on Modify or Submit. If you clicked on submit,You will then see a new page, with an image of your certificate. Your Name and Message are on it. You need to save this to your desktop or hard drive in order to print it out, it is a*.JPG image. Click just underneath the image, where it says, 'certificate download' They look quite good on A4 semi gloss, full gloss might be better?All the best to you and yours, hope to be there with you at Venus.
No responses