Cyberromance..do u think u can fall in love?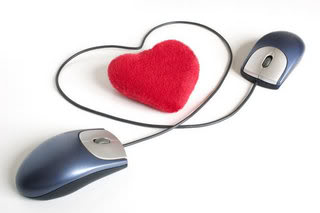 Philippines
January 3, 2010 4:42am CST
At first, it's all words seen on the opaque screen. And when finally u see her face and hear her voice, you know something's wrong with you now. When u wake up, u always open your computer even before u remember going to the bathroom first. You start sharing experiences, secrets, fears and dreams. You secretly sit on her page, checking her movements and that of her friends too. You feel a slight pain in your heart when u see a sweet comment sent to her. You worry and wear a long long face when she's not online at the usual time. Yay...You must be in love!
2 responses

• India
27 Jan 10
hi lipstick How sweetly you have explained the feeling and sense of love. I too agree that cyberromance can happen. First it all starts with chatting and then slowly, we feel like seeing the face and hear the voice and finally end up in love and sometimes it continues to be an affair or end up in a break

• Mexico
25 Jan 10
Its funny coz i met someone for real but i had to move out and we started to chat lots every day like 3 or 4 hours but before that we liked ... and i could feel that and i and he knows anyone could be so close to him! kind strange and weird and we are really good friends but u know he knows he can trust on me lots ...