Greetings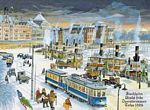 India
4 responses

• Canada
5 Jan 10
Did you like it last year? If you did what would make you like it any less a year later? It's still a card you like given to you by someone you like, so whats not to like?

• India
5 Jan 10
Normally a card is not repeated and so I just wanted to know how you guys would see it. Thanks.

• India
5 Jan 10
May be they forgot what they have sent last year. They affectionately sent this card to you. I feel you just thank them for the card. When you see them in person or talk over phone later, then casually you can mention it.

• Australia
5 Jan 10
I agree with The_Lamb_Lies_Down. Do you appreciate what she had done for you? The mere fact that she send an e card for you should make you happy. You don't go pointing out how that card is the same as what she gave you or something. BE grateful. :( I swear, allknowing, I see your posts a lot, but I really don't know why you made a thread like this. :) Do you send e cards to your friends? I don't know, but if someone gave me an ecard, I'd be extremely happy, even if it was meant to be offensive. :P

• India
5 Jan 10
Cool it Nameless. I just wanted to know how you guys would see it. She is my best friend and if she knew that she had done this she would go underground! And wait a minute - do you think I would point it out to her? She is that prim and propah person. Thanks

• United States
5 Jan 10
I would thank her for the card. I would also send her one back with some nice words on it. I know the card was a repeat but it's the thought that counts.