igloo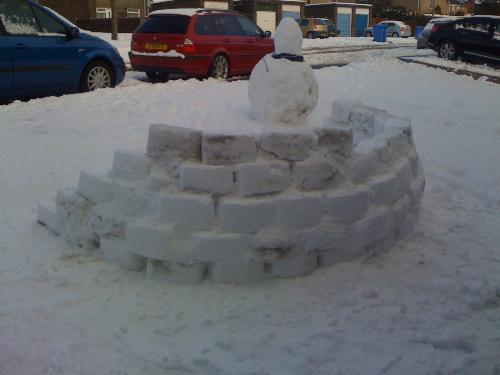 January 6, 2010 10:28am CST
hey all the snow just keeps coming here in newcastle uk am snowed in as main roads are awful lol, and mad drivers out there lol,so am building an igloo have you ever built a igloo??have built this winter snowmen a snow castle and now trying to do an igloo see pic if it works.
7 responses

• Carlisle, England
6 Jan 10
Hi Benny! Love the igloo! Are you gonna move the snowman and put him in it lol. My brother's ex-girlfriend has been to Consett, County Durham but I reckon she'll be snowed in and won't be able to get back to Blackpool on the Primrose bus this week. Do you know that part of the world? How bad is it? It's a shame the North East and North West (I live in Carlisle) are never mentioned on the news. Whenever it snows darn sarf Sky News are all over it like a rash! Keep warm my friend.


• Spain
6 Jan 10
It's great that you can stay so cheerful in the face of all this dreadful weather, Benny. Making the best of it always works better than moaning about it, though, doesn't it? After all, nothing's going to change just because we think it's inconvenient.


•
6 Jan 10
well what baffles me is people still attempt to drive in it, if the snow comes I stay at home you hear all these mad people driving to work and getting stuck if its that bad no job is worth risking getting stuck or damaging your car or worse. The snow is fab, but people seem not to think rationally theres loads of people stuck in their cars am amazed that still happens as I would just stay at home lol,

• Spain
6 Jan 10
Yes - some people just have to have an extra serving of stupid, don't they?


•
6 Jan 10
Hi! I have built one once, but it was very long time ago and I can't say it was a real igloo! I make a hole in the ground and I covered it with branches and then with snow!

•
6 Jan 10
An igloo - I'm impressed! Hope you can get it finished. We haven't had much of the right type of snow in Suffolk yet, but there is more snow forecast. Anyway, it's good that you are making the most of it!

•
6 Jan 10
he he he yeah thought it wouldn't take so long lol, all my neighbours been out commenting on it so far lol as you can't really tell how high it is from the pics but it's about 4 foot high at min and hoping to finish it tomorrow though we will see as more snow expected tonight so might have more raw material in morning lol, well hope you get some but not too much that it becomes a problem,

• Spain
6 Jan 10
Hello, Benny - or should we call you Bob the Builder?

As a child in the Midlands and a young mother in Shropshire, I've built, or helped to build, many a snowman, but there was never enough snow to build an igloo. We now live in Spain, and for the 20 years before that, I lived in Cornwall, where we hardly ever see any snow - although my friends tell me it's very bad there at the moment. So I've missed out on the igloo building - I could be psychologically scarred for the rest of my days!


•
6 Jan 10
he he he ben the builder lol, tell you what I'll never complain that building work taking too long lol, and the half an igloo is actually quite sturdy he he he would love to live in a hot country but to be honest I love the snow and wouldn't give the snow up for anything in the world lol, so somewhere like canada I reckon bit of snow but also the snow.

• Ireland
6 Jan 10
Hi benny128, You guys are having the worst of the snow, we are snow covered too but nothing like the UK. What is up with the lack of gritting roads

I remember when I was a kid we had some really great snow in some places up to five foot drifts and we made an igloo, it took us most of the day but it was sure fun. Have not thought about it until I seen your discussion. So if I cant get into work in the morning I might just spend the day having a go at building one to go with our snowman


•
7 Jan 10
yeah go for it get an irish igloo built lol, mine is prob a day from being completed he he he my kids were helping but they got bored ha ha ha think its going to be about 7 foot high as its about 4 foot high now and still long way to go lol, this is first igloo have had chance to build, may aswell do something as took week off no point in driving anywhere incase you get stuck.

• Ireland
7 Jan 10
Well did not make it into work today but I did try but stuck in very bad traffic, so I turned back. Looks like it will be Monday before I get back to work, if the snow clears that is. Sound like lots of fun you are having building the igloo. 7 foot high. that is going to be really fun for the kids when you finish it. I did not get round to starting mine yet lol. I might be a little less ambitious then you and just make a small one for our cats



• United States
7 Jan 10
We are snowed in too here, yuk im getting little tired of below zero temps and snow here in midwest. I remember building a igloo when i was a kid, loved it was so huge think we fit like 4 kids in there. Wish we had the good kind of snow to do it here my kids would think thats really cool. We are getting the light powdery snow not very good for igloo building :( I will have to keep this in mind for the next storm im sure we are not done with snow for the year. We got 6 inches new snow just last night and schools closed again today!

• United States
7 Jan 10
I will send ya some extra snow from US midwest, we have plenty to spare lol, to help with your project!

•
7 Jan 10
Igloo makes a change from snowmen. I am in England too and have never seen so many snowmen/women or igloos ever. More snow next week so you might have to think of something different to build x

•
16 Jan 10
Hey Benny havent you heard of the old saying "never say never" lol