How cluttered is your desktop

United States
January 17, 2010 9:57pm CST
I have always kept my computer's desktop very clean. Which is actually a little weird cause I don't use the desktop much at all, I actually had to minimize several screens to even get a look at it. So how cluttered is your desktop? Leave a picture, I am curious what desktops look like in other operating systems and just how clean/messy they are. If you don't know how to take a screen shot of your desktop, minimize everything until you can see your desktop. On your computer is a button that says Print Screen ( it might say something else as well) hit the button, open up a paint program and paste either with right click-paste, or ctrl+v or through the file menu.
4 responses

• India
18 Jan 10
My desktop is always clean i always delete all unwanted shortcuts and all the other files that 1 save there the whole day.Every night before i turn off my computer i just cut everything from desktop and clutter my drives.So my desktop is always clean.I always keep black wallpaper because black and white combination is really nice.

• United States
18 Jan 10
Hmm.. Do you ever have issues finding stuff after you have removed all those links?

• India
18 Jan 10
Yes its completely impossible to find something but at least my desktop is clean lol

• Canada
18 Jan 10
I have a weird habit of keeping the desktop clean too; i find it much easier to think and work that way. A cluttered desktop gives me cluttered thoughts.

• United States
18 Jan 10
So you actually use your desktop and keep it clean?

• United States
18 Jan 10
my desktop is always cluttered and i hate seeing like that,cause i have my background picture on it and i can hardly see the pictures cause of the icons that is covering it up..so recently i decide to find the time to clean up my desktop and so i did but i still got a few left to go..i hope i can get to it soon.

• United States
18 Jan 10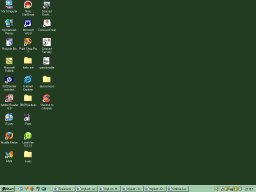 Hopefully I'm attaching a pic of my desktop right now... I don't generally pay very much attention to it. I've seen other people's computers though, that have literally the whole screen filled with shortcuts. I'm a pretty per-usual kind of gal, so rarely would I ever find the need to fill up the whole screen with useless shortcuts and folders. I'd rather keep things simple..Minimalism, that is!

• United States
18 Jan 10
well apparently you are better at adding the pictures than me, I thought I did but doesn't seem like it. Yours is very very ordered, no background. Like you said, minimalism. If my pic had gone through, I think mine goes beyond minimilism, maybe even utilitarian says it right lol. I just don't use the desktop.