can you count number of lies you tell in a day?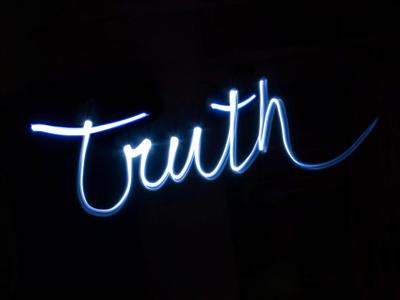 India
January 18, 2010 10:46am CST
Can you Count the number of lies you tell in a day? Either to convince others or for the sake of ourself we use to tell lies everyday. Well it is quite hard to tell the truth every time you speak. If one can count its number then one gets the feeling that how much they depend upon falsehood. If you have counted just tell me. If not then count it today!
10 responses

• France
18 Jan 10
If I say a lie, all that I want is forgetting it, so I never count how many times I do it per day. But as usual, I think that it couldn't be more than one. If I realize that I lie something, I'll force myself not to repeat this mistake, and this force is kept until I go to bed at night.

• India
18 Jan 10
I can't count the lies because i m a student a non-studies interested movie watching,class bunking,sitting in the canteen type of student so you can gues how many lies i must be saying in one day.


• United States
18 Jan 10
I avoid lying when I can. With that being said, I tend to stretch the truth from time to time. There are different reasons for this. Sometimes I may be remembering something that happened in a bit more favorable manner. Not done on purpose mind you, but my recollection can be off. I never really count, as it is never something that I felt there was a need to keep track of.

• Brazil
18 Jan 10
Oh boy... I think I can but I've never tried...

• Philippines
18 Jan 10
No, I dont count the number of lies I tell in a day. The truth is honestly today I havent tell a lie. I have nothing to hide so usually I dont lie, but there are times that I lie not because I'm fond of lying its because there is a need to lie to save something from becoming worse.

• India
18 Jan 10
If I say I don't tell a lie then I will be a big lier. But I try to minimize it as much as possible......

• Canada
18 Jan 10
I actually try very hard NOT to lie. My reason is that I have been in a relationship with a continual liar. His first instinct, when questioned about anything (even virtually insignificant or routine things) was to lie. When pressed to explain his behavior, he said that he "hated confrontation" and that he would lie first to "give himself time to figure out what the right answer should be." It is incredibly difficult and hurtful to be around someone who behaves this way so I am even more aware of what I say and don't say. I supposed I've lied from time to time to protect someone's feelings (such as saying I liked an outfit or hairstyle that I really didn't care for)... but it's rare that I do even that. I'm more comfortable telling the truth and accepting any outcome :)

• United States
18 Jan 10
The only time I lie in a day is if my MIL is being a B.... and she catches me mumbling - then she says "what did you say?" And I either pretend like I don't hear her or say "nothing' lol You see... my MIL is also my boss and I sit next to her allllll day long... 5x a week. I love her dearly, but we have our moments. And don't get me wrong - I'm not afraid of standing up to her or telling her how it is so to speak - but there's a time and place for everything... and during the work day just isn't the place. And probably a white lie here or there to my daughter. But the kind where she asks... I don't know "What's Barney doing right now?" and I respond with something like "crying because I called him and told him you wouldn't eat your broccoli" haha