Cell phone explodes!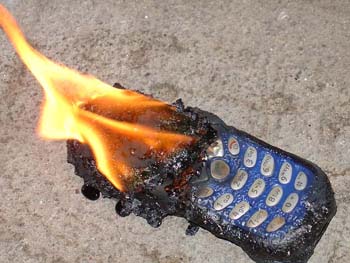 India
January 23, 2010 12:46am CST
Over the years the number of cell phone explosion has increased drastically. In case of the cell phone explosion not only the phone is destroyed but also in some cases the cell phone owner is killed. For instance if a person is having his cell phone in his pocket and then the phone bursts, clearly the man dies on the spot. Sometimes the cell phone bursts due to uneven voltage supply in the mains while charging the cell phone. So before charging the cell phone make sure that the voltage rating is exactly the same as required by the cell phone. At least some explosions can be prevented.
3 responses

• Daytona Beach, Florida
23 Jan 10
I've never had that happen. I do have a phone that does get hot if I have long conversations on it. But, before it can reach "bursting" heat, the call will be disconnected so that it can't get any hotter. I'll admit having it get that hot does anoy me. But, lucky for me a long conversation is very very rare.

• Malaysia
23 Jan 10
Rare, but it can happen. I have heard of people's cell phones blowing up because they were using low quality batteries or batteries that are not certified by their phone manufacturers

• Eugene, Oregon
24 Jan 10
I have never had that happen to me, but it is possible that it could. I do notice that my battery has a tendency to get a little warm when I am charging it, especially when I charge it with the phone on. I probably shouldn't have it on when I am chaging it, but it is my only mode of communication to my kids, so I need to have it on, in case either one would happen to clal me. If they can't get a hold of me, then they will be concerned, and I don't want them to wsorry about me. I hope thaqqt my phone never explodes, hut it can happen. I just hopt it doesn't as I would be without any phone at all. I don't think that cell phones are made to last to long nowadays. I have read that they usually only last 2 years, which isn't a lot of time, as they should last more than that. It is for that reason, that I will change my cellphone before that happens, as I can't bewithout one, since I don't have a landline. Take care, and happy mylotting.