What do you think about keeping fishes in fish tank?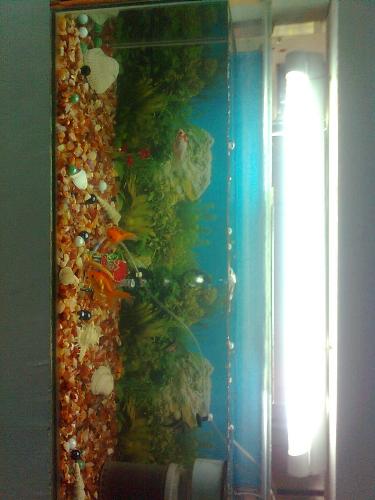 India
January 23, 2010 1:43pm CST
We have renovated our house and now we have one fish tank. It is almost 2 months now but one of my Aunt when visited my place, she was not that happy after looking at the fish tank. She was thinking that why should we force them to stay in such a little water? I said that it is enough for them to survive and we are not hurting them and treating them as our family member and caring about them. Well we are taking care of those fishes as our pets and it is not a easy task to do but rather appreciating those cute fishes she was started some other gossip with my mother. What do you think about having a fish tank.
5 responses

• India
23 Jan 10
whenever i buy fishes and keep them in my fish tank, they die very soon. i give them food every morning and evening. But then too they die. about keeping fish tank i want to say that its a very tough job of maintaining the fish tank in good condition, I mean its hard to clean the tank atleast every week.

• United States
23 Jan 10
We were losing our fish also. We found out we were feeding them too often, and they also told us we were cleaning it too often. They tod us to stir up the rocks a bit and tahe out a bucket of water and replace it and put conditioner in the water. We have not lost any since. We feed ours a pinch od food every morning and that is it.


• United States
23 Jan 10
We have a fish tank and it is in our living room, for all of us to enjoy. I don't think there is anything wrong with it. You just have to be careful not to have to many.

• India
23 Jan 10
I have 12 fishes in my fish tank but none of them is aggressive in nature. I think it is to many according to you. How many fishes are there in your fish tank? Thanks for your response.

• United States
23 Jan 10
I have a 20 gallon tank. We have 8 in it.

• United States
3 Apr 10
well i too have a fish tank and its a 20 gallon tank. its not as big as i would like but its better then nothing. i first started out with a small tank like one of those starter tanks, then i upgraded to a 10 gallon. it took me a while to learn how to take care of the fish and what things to do and not to do. it was bad when i kill 5 of my fish just by putting then in a different fish tank while i was cleaning the other one. now i got the whole tank cleaning down to a science. in my 20 gallon fish tank i have about 5 fish in it. 2 Common Goldfish, 1 Three spot gourami, 2 Plecostomus, Pleco. then in my 10 gallon i have 2 catfish not sure what kind, and then 1 gold fish. i think its fun and cool to have a fish tank.

• India
6 Apr 10
Thanks for sharing your experience over here. Have a nice life ahead.

• Canada
24 Jan 10
There's nothing wrong with having fishes in tank it's same as having a dog or cat some people can't have animals where they live so don't worry about what she said I use to have tank it's great but now I got cats so I don't think I get any fish because I don't trust the cats if you know what I mean!!!! cd

• India
26 Jan 10
Thanks for your response. I know cats are really naughty pets to have.

• Philippines
25 Mar 10
Sometimes it is better to keep them in small water that let them die in the dirty waters. I really want to have my own fish tank. Someday I will when that time comes I will make sure fish will love their new home.

• India
28 Mar 10
Yes you are right. In less water or small tank they might die as there might not be sufficient water there in the tank. But still it is better than nothing and good care will not let them die. Also I am planning to have a big tank so that they will feel happy about it, but its too long I guess.