men who shave

Puerto Rico
January 25, 2010 7:31pm CST
Ok guys if you shave, does one side always come out better then the other? I'm asking because my son-in-law is have a meltdown because he can't get his shaving just right. I think he is getting nuts over nothing because who really checks your face to the point to see if its totally even. Females you can also answer for your husbands/boyfriend. Do they go nuts too as my son-in-law does?
5 responses

• United States
26 Jan 10
This is a common problem, my Hubby wears a short beard and can never seem to get both sides the same. I guess I even have that trouble with my own hair, one side is always more trouble than the other.

• Puerto Rico
26 Jan 10
That is true when I go to the hairdresser they never seem to be able to get both sides exactly right. I have to let him know this. Thanks for your insight.

• United States
26 Jan 10
Been around a few men in my time, lol, raised 2 boys but have never heard any of them mention anything like that. If that's all he has to worry about he's lucky.

• Puerto Rico
26 Jan 10

No I wish that his all he had to worry about. My daughter and I we just laugh at him because he really takes it so serious its just to funny. I'm serious when I say he was having a meltdown.


• India
26 Jan 10
no.. it goes normal with me., i think he is researching too much about it. it may be the thought which is wrong..

• Philippines
30 Mar 10
Not really, i think hes still in the process of learning how to shave properly he just needs a lil guidance and help coming from people who shave alot too. At first im experiencing the same problems as your son in law but now shaving for me is just an easy task that i need to do everyday. ;) tell your son in law to try and search for ways how to shave effortless. ;) im sure he will be able to find answers coming from youtube or any search engines that he wants to try ;)

• India
29 Mar 10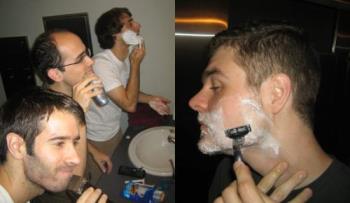 Hello and Good Afternoon, well i don't think that it is somewhat like that but yes there is some difference just because you might not pay attention. It did happened to me once i didn't paid attention and one side was hairy and the other was clean. Well i would say no. I don't think that one side comes good and the other not, it's just that you are not paying attention on the shaving and you might be lazy that's why it might be happening. It's just that i was lazy when i used to shave first but since once i was told the importance of shaving i understood why is it important to shave and than i always shaved very carefully and very well.