I've posted so much about my four little fiends...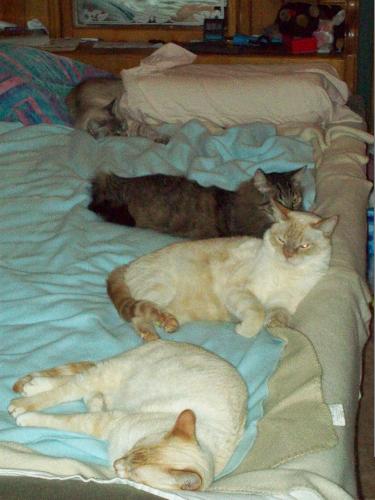 United States
January 26, 2010 2:12am CST
I finally got a picture of them all together, which for my herd isn't easy. All I had to do is put clean sheets on my bed and the gang was all there! LOL!! From bottom to top the order and age is: Khuay, 2 years old Willy, Khuay's brother, 2 years old Dingelbeary, the Mainecoon cat, 8 years old Murphy, the little old lady of the group, 161/2 years old. I couldn't believe that they actually stayed put for the picture, but I won't look a gift horse in the mouth.
4 responses

• United States
26 Jan 10
How on earth did Dingelbeary get his/her name? I've wanted to ask. I guess Dingelbeary looks kind of like Solo did, before he got sick. Now he looks like a poorly used fur coat - thru the rains... but he is looking a bit better, he'll probably look even better after he gets his beautiful teeth pulled.


• United States
27 Jan 10
It's kind of interesting. A friend mentioned about a Mainecoon that needed to find a new home, as he had been in two abusive places including the temporary foster home he currently was in. I said that I would check around and see if I could find him a home. Next thing I knew I was getting a call to pick up my cat. HUMMM, what cat??? I honestly didn't say I would take him...but my friend was desperate as her husband was terribly allergic to cats. So I got a carrier and went and got the cat. I figured I would give him a week and I would have found a new home for him. Well the week went by and he had found a new home, WITH ME!!! I don't much care for long haired cats, but this guy stole my heart. The next problem was figuring out a name for the guy. I couldn't come up with one, weeks went by and you just couldn't keep calling the poor cat "Hey you". Then one evening Bill called me to tell me something that was going on with the cat, he started the conversation with "Dinglebeary...." and that was it, the name stuck. Of course it fit as Dinglebeary is a real ding-a-ling and as it has said in the cat books, the male Mainecoons are a bit daffy...it's like they looked inside the house and saw my Mainecoon. The night that Bill called me about the cat, he had come down to check on the animals and he found Dinglebeary sleeping in the garbage can in the kitchen. Neither of us have figured out that one, but that's how Ding Ding ended up with his name.

• United States
27 Jan 10
Now, I've mentioned that Solo got his name because of his birth. He's certainly not a pure Mainecoon - because his mom was a moronic little short haired cat. Crazy, moronic cat I might add - she'd go after the biggest cats in the house! Anyway - Solo was too big for her to have him so she had to have an emergency C-section/spay. At birth he was as big as a 3 day old kitten, at a week - a 2 week old. He was a week ahead until he was a month, moved to 2 weeks then to a month. At 5 months he was 6 lbs (the size of most 6 month old kittens) and he was also bigger than his mother - who was only 5 and a half lbs. He got up to 12 lbs at a year and then kind of stopped. So, while he's a good sized cat, he's not as big as he would be if he were a pure Mainecoon. He got up to 14 but he's got that stomatitus that Taj and Pong had and he needs his teeth done, but he as the most beautiful, LONG teeth of any cat in the house! Good thing he's a sweet boy. I have pix of him in my profile

• Daytona Beach, Florida
26 Jan 10
I can't get my cats to sit still long enough for a group shot. Precious is the only one that will actually try to pose for the camera. The other two, Or I should say other one, is very difficult to get a picture of. Not only is she hard to see, but she doesn't sit still for anything. Only time she's still is if she sits on George's lap. And even then. she'd run away if I picked up the camera, or the camera phone. But, I've posted several of Precious.

• United States
27 Jan 10
I hit this one really lucky. But the big thing is that I had an in because I have a heated water bed that the cats love. I can't go into the bedroom and not find a cat stretched out on the bed. They love when I've changed the bed, it's open season for them to mark their spots with their hair! LOL. When I clean out the lint trap on the dryer it is always full of cat hair. I just happened to be able to grab the camera and take the picture at the right time.

• United States
28 Jan 10
Aww--thanks for sharing that photo of the "gang"---I guess they were breaking in the clean sheets huh?

Usually the only time my two cats are on the bed at the same time is when I'm getting ready to snuggle in for bed for the night. Right now though, Kissy is in dreamland on my bed, while Pyewacket is in his own little bed I made up for him