Do you take turns cooking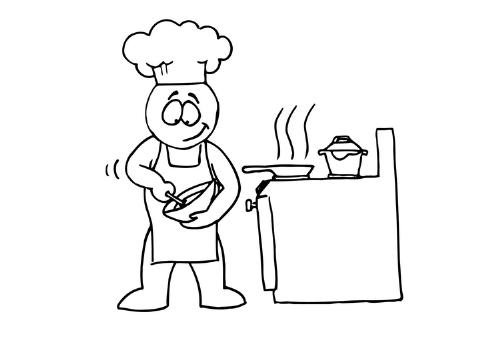 United States
January 27, 2010 2:25pm CST
Do you and your spouse take turns cooking and doing the dishes? Lately I have done all of the cooking for my husband and I have rather enjoyed it, but we used to take turns. For a long time he was the only one that would cook, but I am now trying to make a better effort and cook and clean up dinner.
6 responses

• United States
16 Aug 10
My husband and I do not know how to cook all that many things. However, when we do cook he usually helps me. Like say for taco's, he'll chop the lettuce up while I brown the meat. Other things that we know how to cook doesn't take all that much preparation and so he'll just sit back and watch, or wait in the bedroom. We live with his parents now, so we don't really have to cook, but when we do it's usually simpler things.

• United States
26 Feb 10
My husband and I don't actually take turns but he does help out a lot. He's an excellent cook and he also enjoys cooking on the grill so he's always in charge of that operation. I usually clean up the kitchen shortly after we eat and sometimes he pitches in to help...or beats me to it...but I wind up doing it more than he does, which is fine with me.

• Philippines
28 Jan 10
My husband never cooks. He doesn't even know how to operate a microwave. lol. It is fine with me because she can do other things at home that I cannot do . Like simple repair at home - plumbing, gardening, etc. He may not cook but he was already a great help everyday.

•
27 Jan 10
of course. in all fairness though, I do MOST of the cooking, and he does nearly all of washing up with me just doing it occasionally. however I'm the one that likes to give the kitchen a proper scrub down, including taking removable parts out of the cooker and soaking and scrubbing them, moving everything off the surfaces, cleaning the surfaces, cleaning the things and putting them all back. he does all the vacuuming, and most of the bathroom cleaning. I do all the gardening, and cleaning out the rats, and making sure they and the plants are all well fed and watered. I think we're equals.

• United States
27 Jan 10
Yes we take turns cooking as a matter of a fact my husband made some really good tacos last night!!! they were so good!!!!!!!!! I guess because I really did not know what to cook and he told me to get out of the kitchen and he would do it. L.O.L.

• United States
27 Jan 10
LoL!! The word cook is not really in my other halfs vocabulary! When i met him his idea of cooking was taking a frying pan and frying everything, opening the can and heating it up, or saying yes i would love frys with that!! I then got him a deep fryer and he thought he had went to cooking school, it was funny but he was so proud of himself! As far as dishes he does do that actually more than i do, say's it's only right since i keep him fed lol!