Have you experienced being buried alive?

Lapu-Lapu City, Philippines
January 31, 2010 8:09pm CST
Hi dear mylotters. I am sharing another picture of my son. This is actually a photoshop image that I created from the original photo taken on December 28 last year, while me and my family are spending the vacation in the province. As we are having fun by the beach, just a few steps from the house of my in-laws, we played with the kids and decided to have him buried in the sand.

Now, I wish to ask you, my dear mylot friends, when was the last time you experienced being buried alive?

If those sands are debts, how did you survive? How or what were the ways you had to pay those debts and get out of the grave?

10 responses

• Philippines
1 Feb 10
I've not been buried alive! Well in the beach for many times I experienced being half buried just like your son and I'd say it feels so relaxing and comfortable. The first time I experienced it I was amazed that it would be that cool inside the ground. The ground has a very cool feel. I thought it would be very hot when buried but no. Maybe because it is by the seashore. Ever since I experienced being half buried in the sand I always look for forward to summer so that I could experience it again.

• Lapu-Lapu City, Philippines
1 Feb 10
some people even believe that burying our body in the sand helps eliminate some sickness, like arthritis and muscle pain. those had mild stroke, paralyzed, had their feet buried in the sand, usually in the morning, and said there are some improvements in their health, after doing this for some times.

• Philippines
2 Feb 10
Yes you are right. I know many people who use this as therapy and they are saying it has been very effective to them. Well, that could be a cheaper alternative to healing. I find it really relaxing to be half buried under the sand. I don't really know how it will feel if the whole body will be buried. Ha!ha!ha! When that time comes, of course I would not know anymore because my soul and spirit would be in heaven already.


• Lapu-Lapu City, Philippines
3 Feb 10
that's it, therapy.

well, i guess so, if that time comes, we will not feel anything.


• United States
1 Feb 10
I have never experience being buried alive, and really hope it never happens! :P lol I'd very much like to see your photo shopped picture! But...did you forget to add it to your discussion, or do I have to view it somewhere else? Thanks!

• Lapu-Lapu City, Philippines
1 Feb 10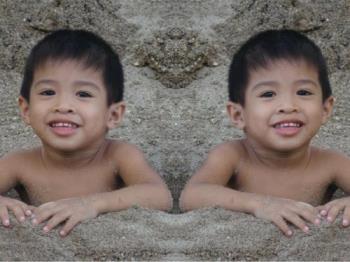 i know i did upload the image. i remember somebody told yesterday about uploading photos, that he had some problems. i never had problem uploading photos for almost a week and i am sure, i did it again, uploaded together with this discussion. there really some problem, i guess. so i am uploading the image here and i hope it gets through now.

• United States
1 Feb 10
Cute picture! He's adorable! The sand behind him looks like a dragon! The middle looks like a face/head and then it looks like two wings to the side! hehe

• Lapu-Lapu City, Philippines
1 Feb 10
it even amazed me myself after the image has brought to that.


• Philippines
1 Feb 10
Hi Neil! I love the word-play. Literally, I think the last time I was buried in beach sand was still back in my teens. But figuratively, with life burying me in its craziness... Let's just say I recently climbed out of my personal grave (in almost all aspects of life), and I'm not fully out yet. How I managed to do at least start climbing out? God's grace. It was HE who pulled me out of it. :) That I breathe today is truly a miracle. :)

• Lapu-Lapu City, Philippines
1 Feb 10
very nice comment here my friend.

i checked your profile and it says that you are a member for 4 years? is it true? and how did it happen, you only have 221 posts made in 4 years? just curious.


• Philippines
1 Feb 10
I've never been buried alive.

I don't think I will ever let anyone bury me under sand because I'm afraid of crabs and other stuff in there. But I would love to bury someone who wants to be buried.

That would be really fun.

• Lapu-Lapu City, Philippines
1 Feb 10
let me know if someone wants to be buried alive and i will help you bury him.


• Philippines
1 Feb 10
you got that right angelajoy, what if they were some creatures under the sand. my friend tried to bury himself in the sand until she got bitten by a crab, which hurts and it was huge, good thing one of the body guards were there to take it out



• Lapu-Lapu City, Philippines
1 Feb 10
what a funny story there my friend letran, but i am sure it hurts to get bitten by crabs.



• Shingle Springs, California
2 Feb 10
What a cutie! Last time I was buried alive was no doubt at the beach!

• Lapu-Lapu City, Philippines
3 Feb 10
it's frightening if we'll buried alive elsewhere.


• Philippines
1 Feb 10

hello neildc, And i thought you went all the way and only head remains up still. i don't remember burying myself with the sand. but i did try to make a sand castle before but it wasn't good and the castle was too close to the water and it just waves it away. am sure he had a bath right after staying in the sand



• Lapu-Lapu City, Philippines
1 Feb 10
right after getting off the sand, he went directly in the waters. he had a great bath with fresh waters to remove the sand and the salt water on his body.


• India
1 Feb 10
OMG so it was a game? Nevertheless a risky one! I've never been buried alive, thank God…on TV I see the images of earthquake victims and wonder how they manage to survive so long… Regarding debts…as long as I can keep it off, I'll never be in debt. It's a principle of my life, that's why I have no credit cards. I buy only when I can afford to pay cash.

• Lapu-Lapu City, Philippines
1 Feb 10
did i scare you?

sorry for that. anyway, you have a good principle in spending your money, but there are really some times that we cannot avoid but to borrow money, especially in emergency situations. and there credit cards will come in.

•
1 Feb 10
Hi Neil, I have this fear of being buried and of bein buried alive, also I have no children that I can go to the beach to be buried alive by the kids, lol. I would never let them. Hugs. Tamara

• Lapu-Lapu City, Philippines
1 Feb 10
i too am afraid to be buried alive

but the kids are really pond of it and love to do it a lot.


• Garden Grove, California
1 Feb 10
neildc you have the most handsome little guy I have seen in a while and he looks like he is having a ball. I never have beeen buried in the sand, too scary for me but the kids love it. Sands were debts well I just did the best I could and paid all of them I could and the legal limits on the one remaining ran out so now am debt free. I am staying that way by using on my debit cars a nd always being paid up.

• Lapu-Lapu City, Philippines
1 Feb 10
thanks, hatley. i just hope he'll keep being adorable until he grow up.

some people here had told that there is also some benefits being buried in the sand, in the beach. there are some people had stroke, and half of their body are paralyzed. one cannot walk well. they go to the beach early in the morning and bury their legs in the sand for some period of time. they believe it helps. with the debts. i hope someday, i can tell the world, that neil is debt-free mylotter.