do you still use wrist watch when you have other gadget to check on the time?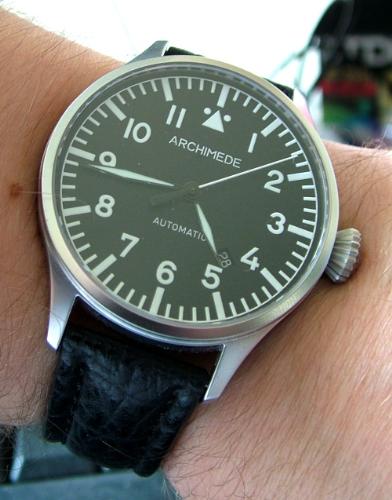 Canada
9 responses

• Montreal, Quebec
3 Feb 10
Personally I don't like wrist watches. I feel uncomfortable with it on my wrist. Even before all these gadgets came out, I used to keep a wrist watch, but I would keep it in my pocket or my purse. But now I prefer to use my cellphone to tell the time, because my phone automatically updates the time when it has to, so I know the time is always right, whereas with a wrist watch, we could be off by a few mintues and sometimes that can cause us to be too early or too late and can cause problems

• United States
3 Feb 10
i do have watches but i use my cell phone to check the time

• Venezuela
3 Feb 10
Yeah, I still use my wrist watch to check the time. It takes more effort to get my phone and see the time. With my watch, I just move my hand and I can see the time easily.

• United States
10 Feb 10
When I was younger, I broke my left wrist on roller skating accident & it never really healed right. Since then, I really didn't wear watches. I recently bought a watch because I'm on the road a lot & I found myself needing a watch. One I bought is made by casio & it has built in sloar charger so I don't ever need to change the battery. It's also one of those watches that sets itself. I can't wear it too long, though. It starts to hurt my wrist. I take my watch off few times through out the day. I figure it needs to face the sunlight anyway to charge the battery so it actually works out.

• Daytona Beach, Florida
4 Feb 10
I own a couple of them and use them sometimes, but more often then not I use my cell phone. I only keep the watches around because they're talking watches and I can't see that well. My current cell will anounce the time with one simple voice command. So that helps out a lot.

• Philippines
3 Feb 10
yes i still do use wrist watch. me and my wife has the same wrist watch and we enjoy wearing it even at home. though at home we look at the wall clock more often when we step out of the house we use our wrist watch. but if i need to be reminded about something i use my mobile phone for alarm. it is much better to be reminded that way than forgetting it. my wife uses the alarm if she needs to be reminded of something to watch on tv.

•
3 Feb 10
I never wear a watch..I ues mobile~to check on the time..sometimes to ask my friend...lol


• Singapore
3 Feb 10
BART78, It seems like watches today are being regarded more like a dress accessory but to me it is still a much needed time telling tool or accessory or whatever you may want to call it. I can understand that there are people who will use the cellphone, computer or notebook to tell time, but let me assure you that you would need a watch when you are on the move, traveling in an uncertain neighborhood where taking out a cellphone may just spoil the day for you. To me, I will always prefer to use the watch or clock over some cellphone or any other accessory.