Is it possible to connect more than computers to a single modem?

India
6 responses


• United States
6 Feb 10
Yes, I have a router which is a modem with and antenna that connects other computers via a wireless connnection. You need a network adapter plugged into the computers in order to connect wireless with your router. The main computer that has the router can be off, but the router has to be on in order to have a wireless connection with the other computers. Also I have a network adapter thats hooked up to my xbox 360 that has a wireless connection to my router so I can play online games so yes you can be online with devices other than a computer.

• India
6 Feb 10
If you want to use to many computers and connected to a single modem. for using internet.. then you need router for doing that.. because a router is a device from which you can connect to many computers for internet by using only one modem.. thanking you.. keep mylotting always..


• Sri Lanka
7 Feb 10
Yes, you have several options. One is if you have an ordinary modem, it can be connected your computer and others users can be allowed to share your connection. But this needs a separate hub/switch/router to be available in a Local Area Network (LAN). Second is if you have a modem/router, other users can be allowed to be connected to the modem/router similar to you have been connected. Third is if only one other user needs to be connected, you could connect the modem to your computer, share your connection, and connect the other computer with a network cable (UTP). First two options can work on Wired/Wirless mode, while the third option needs to have a cable even though you could setup a peer-to-peer wireless connection if you are little tech savvy.


• Philippines
7 May 10
you cannot connect two or more computers to a single modem. The easiest way is to have a router. I have seen modem/router combo though but dunno if its applicable to your isp

• Italy
8 Feb 10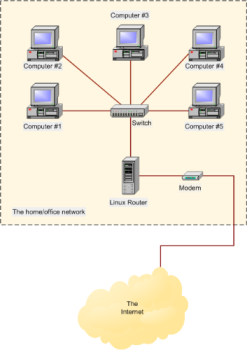 Well, if you're talking about several computers you are using a lan. In this case for sure you're connected to the lan via an HUB or a SWITCH. In this case if the access to the internet is done by a modem directly connected to a computer, is enough to setup the other computers of the net to use the "main" computer IP address as gateway. If you use windows you can easily setup this automatically thanks to windows facilities. Another way is to use a router. In this case the access to internet is demanded to the router, and you don't need to have a "main" computer always on. The router will be connected to the HUB, and the internet connection will be available for all the computers of your net. Also in this case, you must setup the computers to use the router IP address as gateway. Again, windows help you to do this in an easy way. A third way is using an old computer (also an old 386 is enough) with a linux distribution like IPCOP. This is a firewall dedicated linux distribution, that will increase the security of your lan. In this case you need to connect the modem or the router to the firewall computer. Then connect the firewall to your hub.