My grandson just started giggling..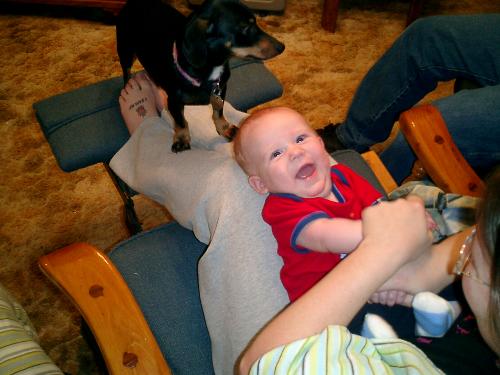 United States
February 8, 2010 9:18am CST
My daughter sings to him in the mornings. She discovered that he really likes the song, "The wheels on the bus go round and round." He will giggle out loud when she sings it and does the motions with him. Here's a picture of it! It's the first time I actually heard him giggle!! I remember those times with her? Do you have such memories?
4 responses

• Indonesia
22 Mar 10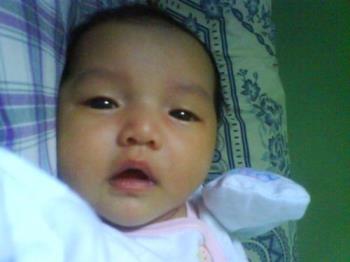 Aww, your grandson is so adorable! I notice this is kid of old discussion, so I bet he's now a professional giggler

. I have a three months old daughter but she hasn't started giggling yet. I hope she'll do it soon, I can't wait! She started to smile widely and coos about a few weeks ago. It was a wonderful memory!

• United States
22 Mar 10
Yes, it is wonderful when they start responding and trying to communicate! My grandson now coos so much and giggles so much. It is so much fun to just sit and "talk" with him and watch him respond. Of course now he responds to the television as well!

• India
8 Feb 10
Yes those memories are very precious. I remember the time when my older son (9 yrs old now) took his first few steps when he was 10 months old. We (my husband and I) were just sitting in our front room having a cup of tea when he just stood up and took three tottering steps towards me and then sat down with a thump.

• United States
9 Feb 10
Those are great! I do actually remember the first steps my little brother took. He was nine months old and we were at our grandparent's house! I guess things really do go in a circle of life!


• Puerto Rico
8 Feb 10
How adorable! Yes, I have memories of my girls first of everythings. Now I'm enjoying my one and only granddaughter with the same memories. I love to hear my granddaughter giggle among other things. I love that she can smile so much in one day. Nothing like a happy child living with you.

• United States
9 Feb 10
Aren't grand children great?!? I only have the one grandson so far too! I am enjoying "firsts" all over again!

• United States
8 Feb 10
That first time to hear a child giggle is priceless.. I have a 4 year old and a 1 year old and both times brought tears to my eyes the first time I heard them giggle..My 1 year old first giggled to the wheels on the bus too.. I guess it must be the hand motions that they find funny. My 4 year old laughed at my funny faces I made at him..

• United States
8 Feb 10
Those are precious moments indeed. I do remember the very first time my daughter looked up at me and cooed! I cried then too!