Could you say no to a face like that?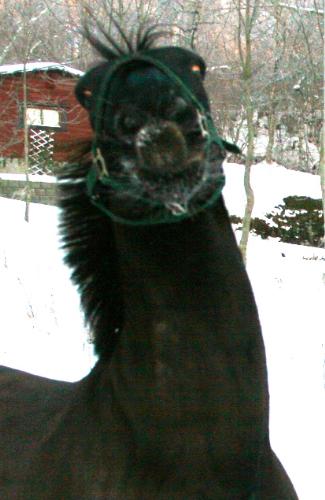 Norway
February 9, 2010 4:58am CST
Some pets are good at looking at you with big, sad eyes so that you are convinced that they need food/petting/care. Other pets/animals tend to bite your jacket more or less friendly and then look at you, but they don't really succeed with the cute look. I'm not quite sure what look my horse is trying out here, but in a way it worked because he got half a loaf of bread afterwards. It could be a llama impression? Luckily without the spitting. Or maybe he's just being loyal, as I always look like a weirdo when people take pictures of me. He does similar things with his head when I'm riding him, I could just stretch my hands forward and pretend that his ears are the handles of a motorbike. Maybe he really wants to be a motorbike? Does your pet have secret ambition to be something else than it is? Politician? God of Earth and Thunder? A pink teddy bear with polka dots? One of the animal talkers in town once claimed that a horse she talked to really thought it was a blue teddy bear. She also talked to Keiko the Free Willy killer whale and said he was itching and wanted a girlfriend. Like most men I suppose, don't have to be psychic to figure out that.
2 responses

•
9 Feb 10
i had a cat with a clear identity problem - he couldn't decide if he was a dog, a rabbit or a human but was certain he was not a cat. he would sometimes eat the rabbit's food because he saw the rabbit eating it and assumed it must be good. my first pet was a rabbit who thought she was the biggest, toughest rabbit there ever was (she might have been right, she became friends with and pushed around a massive tomcat known to kill rabbits). actually she probably thought she was a lioness.

• Norway
9 Feb 10
Rabbits look nice and fluffy but some of them seem a bit tougher than the others :-) We had one in the stable one summer that used to sit in his cage and hiss at the horses when we walked past. Not sure what he wanted to do, eat them maybe? Do rabbits eat horses? :-) There's a bunch of chihuahuas living next door to the stable, they're also bent on attacking the horses. If they only could get over the 30 cm high fence they're behind they would, but they can't jump that high.


• Philippines
23 Feb 10
Your horse surely had a strange look in that photo. My dog loves licking on his paws like a cat does so I think that's a clear sign he;s a little loopy. But more often, he acts like a real human kid jumping up and down to be cuddled and being jealous when other kids are around here. Haha. He always wins us over with his face!

• Norway
23 Feb 10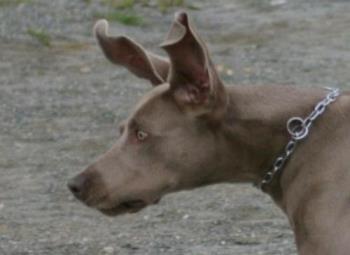 Dogs can have the strangest faces! I really like taking pictures of dog (although I'm not sure I'll ever have one, I'm more of a cat-person). This is the late weimaraner of a friend of mine, she was really cute with the long flopping ears but could also look like a real alien. We took lots of pictures of her when she was chasing balls, she could get three tennis balls in her mouth at the same time.

• Norway
27 Feb 10
She had such loose floppy ears and the skin around her mouth was also floppy, so when she ran she'd look like something strange and alien, but she was very pretty when just sitting straight up and down. A Dr Jekyll - Mr Hyde dog when it came to looks (and sadly, temper, as she hated stranger but loved the people she knew)