bad dream, a nightmare!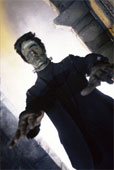 Philippines
February 16, 2010 6:10am CST
Last night, i had a real bad nightmare! and it was awful because all i saw in my dream were ghost-like people and just like in "the ring" movie, the people were somewhat black and white colored. just as i got up i was so thirsty and sweating very hard! i didnt want to sleep back that night but of course since i was tired, i slept anyways with lights open!
3 responses

• Philippines
17 Feb 10
that was awful! i hate those kind of nightmares. just try being busy the next morning and forget about it. and remember not to watch horror movies before going to bed lol. good thing it was just a bad dream.

• Philippines
21 Feb 10
i really dont know how i dreamt about like those stuffs. i didnt watch a horrible film before i slept that night. thanx for the advice though about not watching horror films before sleeping but i gotta tell you, i love watching horror films! lols. thanks chocolatelle! love your name anyways! :)

•
19 Mar 10
That is one scary dream.Lately, I've been having nightmares too. Although they are not scary as yours, but they seemed very real. When I wake up though and tell the story to my man, he actually thinks that my dream was funny.lol And I realized that it was indeed funny. In my dream though it seemed really real. They say that to avoid having a nightmare, don't sleep while you are full. Your sleeping position can also affect your dreams. I wish you sweet dreams tonight.

• United Arab Emirates
22 Feb 10
Yes, nightmares are so scary. There were times that I wake up soaked up with sweat because I was running away from ghost or the paranormal. In my dreams, I just prayed to God and tried to move but couldn't. These dreams would bother me for a day or two but I just pray about it so it wouldn't happen again.