Enough Already!

United States
February 16, 2010 4:35pm CST
Snow. Snow. And more Snow Would someone please turn off the snow machine? We aren't as covered as the east coast but we have more than usual here in Central Ohio. Usually we have one or two decent snows that cover the ground and make sledding fun for the young. This business of having one after another without any thawing in between really makes it hard to appreciate how pretty it is. Have you been "snowed in"? How do you deal with cabin fever?
9 responses


• United States
16 Feb 10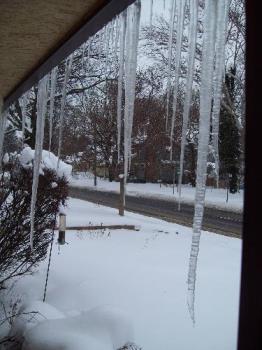 My picture gives you an idea of how much I look forward to spring!

• United States
19 Feb 10
Read, write, watch old 80's movies, watch cheesy B rate movies so that I can laugh at them, color in coloring books, color mandalas, paint, cook/bake, re-organize clutter If it makes you feel better... Illinois and Missouri are both supposed to get more snow over the next 2-3 days... Is Ohio supposed to get it as well?

• United States
19 Feb 10
I'm so excited! The sun is shining today and we've gone almost 48 hours without it snowing!!!

And, yes, we are expecting more snow next week.


• United States
17 Feb 10
We're used to it up here in wisconsin!


• United States
17 Feb 10
I don't think I would do well living in Wisconsin if this is commonplace. You must be made of stronger stuff!


• Canada
17 Feb 10
There's no cure...but it's a great time to fill up your ice trays from outside, and start making a whooooole l o t t a martinis...drink yourself into a stupor, and by the time you wake up, all the snow will have melted.

• United States
17 Feb 10
That groundhog lied his furry little hide of. Winter is nowhere near done it seem. I want to find out who started the tradition of listening to a senile rodent when it comes to weather forecasts. I had a goldfish who was more accurate about picking the Superbowl than this overrated ground squirrel is about Spring. so it's cold everywhere, but canada is abnormally warm where the Olympics are this year. I am sure there is a higher power(call it whatever you like), and it's just playing with us all right now and laughing. The next winder Olympics should be held in my backyard. Literally, my backyard still has a lot of snow, and it's been a week since the white stuff fell and put me in such a file mood. I'm confident that it will still be back there in 4 years. It won't go away. I tried to scare it by throwing a wooden spoon at it, but lost it and didn't see where it landed. I think the snow ate it or something. It's taunting me, I'm sure it is.


• United States
17 Feb 10
Yep. I can hear it from hear - "nah-nah-nah-nah-nah-nah"


• United States
17 Feb 10
We live in East Tennessee, it has snowed a lot here this year, and has been very cold (freezing temps) for a lot of days in a row. We are finally supoose to have some snow free days by the end of this week, I will be so glad to see temps up to 50 again, and a little sunshine with no snow, will be a welcome relief. I am ready to go outside again, tired of the cold and snow. Give me warm spring time.

• United States
17 Feb 10
You are not alone there! Spring can't come soon enough to suit me. I do worry, though, about the melting causing floods. We could have a whole country under water!

• Ireland
16 Feb 10
Yes, here in Ireland we have had more than our fair share of snow this year. The country was almost at a standstill because we are not used to so much snow. I also got snowed in while out on Cougar Mountain in Oregon last November. Fortunately we got a break so that I could get home again. I don't really mind being snowed in as I always have a good stock of food supplies and candles etc but I feel really sorry for those who have to travel in it. As long as I have a big fire and a good book to read, it can be quite cosy.

• United States
16 Feb 10
Me too. I have lots of craft projects to keep me busy. And we completed a 1000 piece jigsaw puzzle. But this is what I see if I look out my living room window. Makes me shiver!


• United States
16 Feb 10
I am in Colorado and there is hardly any snow on the ground. I love to be snowed in and we haven't been this year :( you can still throw on the coat, mittens, boots and build a snow man or a fort, have a snowball fight. Take a walk in the snow. Its beautiful!

• United States
16 Feb 10
It is especially beautiful when the sun shines on it and through it. I'm old and disabled, so playing in the snow isn't on my agenda. I have gotten many indoor tasks done, however.


• United States
16 Feb 10
I feel your pain. I live in Pennsylvania. The first snow storm we got 26 inches. Then a few days later we got like 10 more. Now we've been getting snow off and on since. Last week all our kids got in was half a day of school on Tuesday. They have been canceled the rest of the days because of the snow. yesterday they had off because it was an act 80 day but they probably would have called it off anyways because we were getting snow so thick it was causing white outs. Today it was windy and blowing snow. Now from today to Thursday we are looking at atleast 10 more inches on top of what we already have. The ice is all over our house and now leaking in our windows. We just painted my sons room, now we have to redo it because it ran in behind the paint and made it sag in places. Spring can not come fast enough! It has been like 10 years since we got this much snow.

• United States
17 Feb 10
That's awful! How does the water/ice get in? Is there something you can do to prevent it? It is bad enough for the ice to be on the walks, but sure don't want it inside. Hope you can stay warm and dry.