are you scare of flight?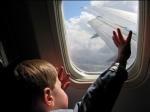 Iran
February 18, 2010 8:59am CST
hai there. do you like to take flight? for me,i doesnt want to take a flight because i afraid of hight. i always imagine what i will feel at time on air. i always watch discovery channel that show me crushing aeroplan on the sky. from that i never thing to take a flight to go travell or somewhere else. so what's your story?
4 responses

• Singapore
18 Feb 10
I don't take flights often, but I am not afraid of it. I know that mishaps do happen. But anyway, according to statistics, air flight is one of the safest way to travel, with the least accident rate. Also, I don't have a phobia for heights. Honestly, I do enjoy taking flights, with comfortable seats, nice food, and friendly air hostesses.

• United States
18 Feb 10
I like flying. I try to get a window seat so I can look out the window when the plane is flying by clouds. I like looking out the window when the plane is taking off & landing. Few minutes before it lands, I can look out the window & see the city being so small & see all the roads leading out from the airport, they all look like a spiderweb. One of the longest flight I've been on was when I was going to Korea for my brother's wedding. It took around 13 hours to get there & 14 hours to get back. That was little too long but still, I didn't mind it too much.

• United Kingdom
18 Feb 10
I need to be able to fly on planes because traveling to different countries is my top hobby. Going by plane is the most practical way to travel to far away destinations. I have flown on many planes to lots of different destinations. My first flight was when I was 14 years old. That was a three and a half hour flight from London to Athens. When I was 20 years old I flew around the world on a journey that lasted just over one year. I went on another long trip when I was 29 years old. On that trip I flew to New Zealand via the Pacific Islands. I like to get a window seat. On some flight I have seen some amazing views like the pyramids of Egypt on the flight that refueled in Cairo on its way back from Kenya. Plane crashes are very rare. Some nervous passengers close their eyes on take off and landing. In the air the view is clouds and I have noticed that doesn't scare people that are afraid of heights.