BEAVIS AND BUTTHEAD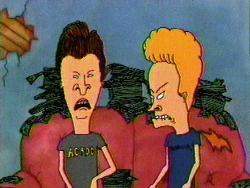 Brazil
6 responses



• United States
19 Nov 06
i remember them but i dont remember an episode did u ever watch the jetson or the flinstones?

• United States
15 Nov 06
Oh yeah! I remember these guys. I liked the episode at the drive-in where the security guy\cop shot himself in the foot! I can't remember the whole episode. Something about Beavis and Butt-head getting crazy after eating a lot of drive-in snacks????

• Brazil
15 Nov 06
hahahah i rmember that... nachos !!! nachos !! hehehe

• Romania
15 Nov 06
I've never seen an episode of them. Only the movie which rocked the house...

• Bahrain
5 Feb 07
man, i love this show. i think the funniest one i saw was, where one of them hits the other(i don't remember which) and he gets a nosebleed and sticks a tampon up his nose. that's hilarious.